Turkey, Paraguay close ties with presidential meeting in Asunción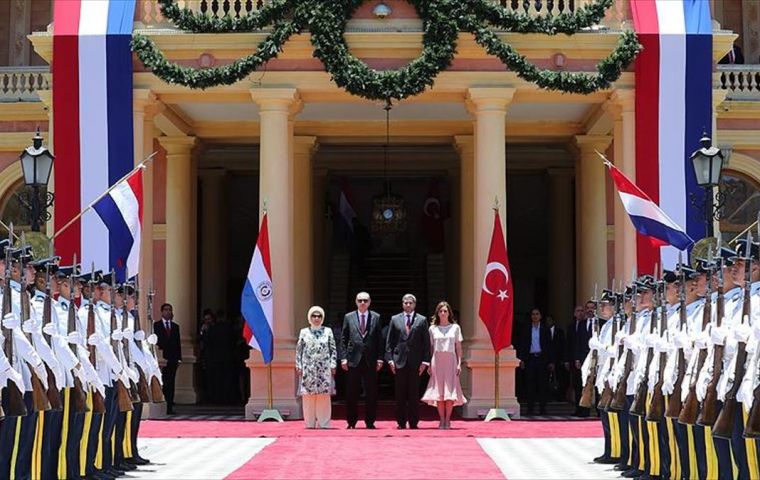 The presidents of Turkey, Recep Tayyip Erdogan, and Mario Abdo Benítez, of Paraguay, Sunday agreed in Asunción to join efforts against terrorism and transnational crime as well as to further commercial and business alliances between their two countries.
The two leaders held a meeting at the Palacio de López, during which they also reached agreements on education, culture, science, technology, media, youth, sports and diplomatic understanding.
In what was the first visit of a Turkish head of state to Paraguay, understandings on reciprocal investment promotion and protection, tax evasion and the elimination of double income taxation were also reached, together with legal accirds regarding extradition and cooperation in civil and commercial matters.
Abdo will travel to Turkey between April and May next year.
Erdogan's visit straight from the G-20 Summit in Buenos Aires comes after Turkey opened its first permanent embassy in Paraguay in November. Paraguay's embassy in Ankara will be opened later this month. Turkey announced the opening of its embassy in early September in support of Paraguay's decision to move its embassy in Israel back to Tel Aviv, thus reversing the decision by the former Horacio Cartes administration to shift the diplomatic seat to Jerusalem.
"There is interest from Turkey in buying more food, meat, cereals and manufactured food products," said Paraguay's Foreign Minister Luis Alberto Castiglioni.
Paraguay intends to increase its commercial volume with Turkey to reach USD 1 billion annually, currently not exceeding USD 300 million.