UN chief welcomes G20 commitment to fight climate change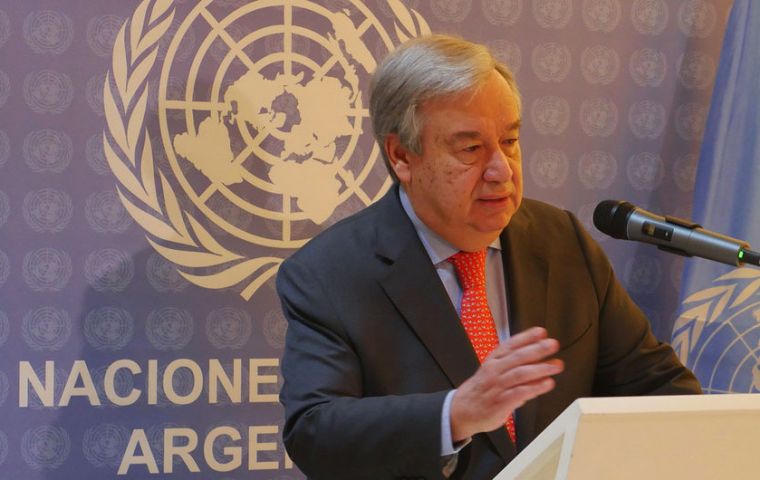 UN Secretary-General, António Guterres, has welcomed the declaration released on Saturday at the conclusion of the 2018 G20 meeting of the world's leading economies, in Buenos Aires, Argentina, which reaffirms a commitment to raise ambition in the fight against climate change.
The declaration notes a focus on four pillars at the meeting : the future of work, infrastructure for development, a sustainable food future and a "gender mainstreaming strategy" (assessing the implications for people of different genders of planned policies) across the G20 agenda.
Mr. Guterres, in a statement released on Sunday, picked out three key messages from the statement:
Agenda 2030
Support for the Agenda 2030 for Sustainable Development, the UN's global blueprint for a fair globalization that leaves no one behind, is reaffirmed in the document, along with a pledge to use all policy tools to achieve strong, sustainable, balanced and inclusive growth.
Climate change
As well as stressing the need to raise ambition in the fight against climate change, the G20 leaders express their very strong support of countries that are signatories to the 2015 Paris Agreement, to implement their commitments set out in their nationally determined contributions.
The G20 declaration states that the leaders look forward to "successful outcomes" of the COP24 climate change conference, which begins in Katowice, Poland from 3 December: the "Work Programme" or rule book of the Paris Agreement – which, for the first time, brought almost all nations into a common cause to undertake ambitious efforts to combat climate change and adapt to its effects – is expected to be agreed at the event.
Mr. Guterres pointed out that agreement on the Work Programme will significantly advance implementation of the Paris accord.
Multilateralism
In the declaration, said the UN chief, G20 leaders recognize the importance of a multilateral approach to trade and of the reform of the World Trade Organization, and renew their commitment to a rules-based international order.
The Secretary-General concluded with a reminder that the G20 comprises the world's leading emitters of environmentally harmful gases, and that the declaration provides hope for a solution to a global challenge that he has described as a direct existential threat : "these agreements by the leaders of the world's 20 largest economies, which also contribute the largest share of global green-house gas emissions, can help rally the international community to make sure that climate change is a race we can win. Indeed, it is a race we must win."