UN seeking US$ 738m to help neighboring countries receiving inflow of millions of Venezuelan refuges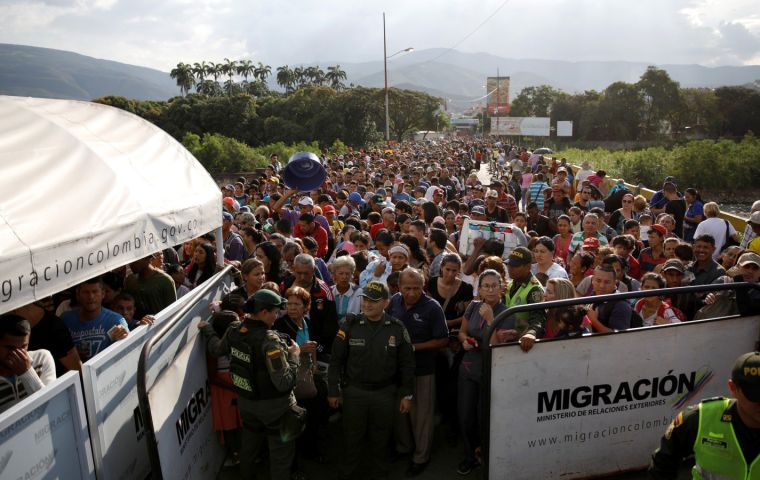 The United Nations said on Tuesday it was seeking US$ 738 million in 2019 to help neighboring countries cope with the inflow of millions of Venezuelan refugees and migrants, who have "no prospect for return in the short to medium term".
It was the first time that the crisis was included in the U.N. annual global humanitarian appeal which is US$ 21.9 billion for 2019 without Syria.
Three million Venezuelans have fled the political and economic crisis in the oil rich country, most since 2015, according to the U.N. refugee agency UNHCR.
"There is one crisis for which we for the first time have a response plan, which is to help the countries neighboring Venezuela deal with the consequences of large numbers of Venezuelans leaving the country," U.N. emergency relief coordinator Mark Lowcock told a Geneva news briefing.
The majority of Venezuelans who have left have gone to 16 countries in Latin America and the Caribbean, led by Brazil, Colombia, Ecuador and Peru.
"In 2019, an estimated 3.6 million people will be in need of assistance and protection, with no prospects for return in the short to medium term," the U.N. appeal said.
Colombia, which has taken in one million Venezuelans, is "bearing the biggest burden of all", Lowcock said.
President Nicolas Maduro blames the country's economic problems on U.S. financial sanctions and an "economic war" led by political adversaries.
The exodus, driven by violence, hyperinflation and major shortages of food and medicine, led to a U.N. emergency appeal of US$ 9 million announced last week for health and nutrition projects inside Venezuela.
Lowcock, asked about Venezuelan government acceptance of aid inside the country, said:
"I think there is a shared agreement that more U.N. help in those sorts of areas would be a very helpful thing in reducing the suffering of people inside Venezuela. What we have agreed with the government of Venezuela is that we should strengthen our collaborative work and support for example in area of health services and nutrition," he said.
David Beasley, executive director of the World Food Program (WFP), told a separate briefing: "This is a story unfolding, we have yet to be allowed access inside Venezuela."
The WFP has urged the United States and other donors to help it reach Venezuelans in surrounding countries with rations, he said, "because many of the people, if they can just get food, they will at least stay in their home area, in that region."