Bolsonaro's announcements earned Brazil a "fossil of the day" at pessimism-ridden UN climate conference
Thursday, December 6th 2018 - 19:17 UTC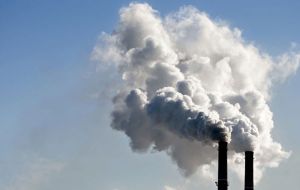 Environmental activists have labelled Brazil and Saudi Arabia "fossils of the day" during the United Nations two-week climate conference in Katowice, Poland.
The two countries were chosen by The Climate Action Network due to the Saudi delegation's efforts to oppose those trying to curb global warming and for President-elect Jair Bolsonaro's refusal to host the next round of talks on the issue in addition to his announcement that he will not take any action against the deforestation of the Amazon rainfirest when he takes office in January next.
Host Poland also received the dubious distinction for undermining the European Union's stance by promoting its coal industry.
At the convention, researchers agreed emissions of carbon dioxide going up.
Between 2014 and 2016, the amount of atmospheric carbon dioxide (CO2) had leveled off but by 2017 emissions are on their way back up, estimated to have risen 2.7 per cent worldwide, as three major studies from the Global Carbon Project (GCP) published Wednesday have reported.
The GCP is an international scientific collaboration of academics, governments and industry that tracks greenhouse gas emissions.
"This is terrible news," said Andrew Jones, co-director of Climate , which models greenhouse gas emissions and temperatures but was not part of the research. "Every year that we delay serious climate action, the Paris goals become more difficult to meet," as the calculations, announced during negotiations to put the 2015 Paris climate accord into effect, leave some of the landmark agreement's goals nearly out of reach.
The Paris accord set two goals. The long-held goal would limit global warming to no more than 1 C from now, with a more ambitious goal of limiting warming to 0.5 C from now.
"Last year, we thought, was a blip — but it isn't," says Rob Jackson, a climate scientist at Stanford University in California.
The studies concluded that this year the world would spew 37.1 billion tonnes of carbon dioxide, up from 36.2 billion tonnes last year. The margin of error is about one percentage point on either side.
The GCP uses government and industry reports to come up with final emission figures for 2017 and projections for 2018 based on the four biggest polluters: China, the United States, India and the European Union.
The increase in 2017 over the previous year was 1.6 percent, and in 2018 it's looking like emissions will have grown a further 2.7 percent. The margin of error is about one percentage point on either side.
With the economy strong throughout most of the world, 2019 looks to be headed in the same direction, in terms of carbon emissions.
The recent slowdown in emissions and the subsequent uptick are both largely the result of what's been happening in China, the largest emitter of CO2 in the world).
But now, says Jackson, "the government is trying to boost growth, and they're green-lighting some coal projects that had been on hold."
This week's Nature journal reported China is cleaning up its air pollution. That sounds great for pollution-weary Chinese citizens. But climatologists point out that some of that air pollution had actually been cooling the atmosphere, by blocking out solar radiation. Ironically, less air pollution from China could mean more warming for the Earth.
The U.S., which had been steadily decreasing its carbon pollution, showed a significant rise in emissions — up 2.5 percent — for the first time since 2013.
Jackson pointed out in the journal Environmental Research Letters that Americans are using way less coal now than they used to, but are shifting to petroleum.
India is also using a lot more coal as the government tries to bring electricity to millions of residents who don't have it. The country's emissions of CO2 have increased, on average, by 4.7 percent a year since 2000.
Some climate experts remain optimistic, however: Corinne Le Quéré, from the University of East Anglia, in Great Britain, underlined "[t]here has been investment by governments and by businesses in wind and solar energy, and these investments have driven down the costs," she says. But she acknowledges renewable energy is far from replacing fossil fuels.
In spite of that, she also does not think emmissions will return to the figures seen from 2003 to 2008.
But with regards to the Paris accird goals, the trend is such that the world would have to be lucky to keep warming to 1 C, let alone the lower goal, Le Quéré said.
According to the studies, China increased its emissions to 10.3 billion tonnes, while the U.S. jumped to 5.4 billion tonnes. The European Union spewed 3.5 billion tonnes and India soared to 2.6 billion tonnes. Overall, the world is spewing about 1,175 metric tonnes of carbon dioxide into the air every second. Global carbon dioxide emissions have increased 55 per cent in the last 20 years, the calculations show. At the same time, Earth has warmed on average about 0.38 C, according to the U.S. National Oceanic and Atmospheric Administration.