French government suspends fuel tax, but protests continued across the country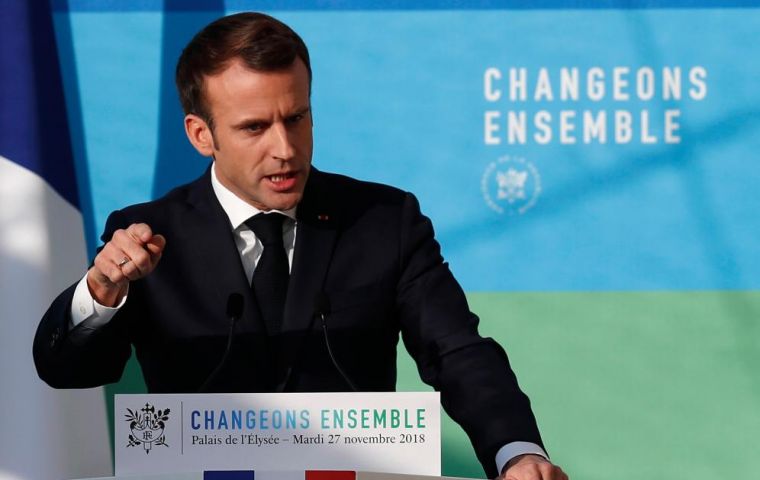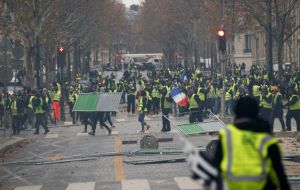 The French government's decision to suspend fuel tax and utility hikes on Tuesday did little to appease protesters, who called the move a "first step" and vowed to fight on after large-scale rioting in Paris last weekend.
In a major U-turn for the government, Prime Minister Edouard Philippe announced in a live televised address that the planned increases, which were set to be introduced in January, would be postponed until summer.
The backpedaling by President Emmanuel Macron's government appeared designed to calm the nation, coming three days after the worst unrest on the streets of Paris in decades.
"No tax is worth putting the nation's unity in danger," Philippe said, just three weeks after insisting that the government wouldn't change course in its determination to wean French consumers off polluting fossil fuels. But demonstrations continued around the country Tuesday.
Protesters wearing their signature fluorescent yellow vests kept blocking several fuel depots. In the southern city of Marseille, students clashed with police outside a high school. And on a highway near the southern city of Aubagne, protesters took over a toll booth to let vehicles pass for free. They put up a sign by the side of the road reading "Macron dictator."
More protests were expected this weekend in Paris. Last weekend, more than 130 people were injured and 412 arrested in the French capital. Shops were looted and cars torched in plush neighborhoods around the famed Champs-Elysees Avenue.
The Arc de Triomphe, which is home to the Tomb of the Unknown Soldier and was visited by world leaders last month to mark the centenary of the end of World War I, was sprayed with graffiti and vandalized.
"This violence must end," Philippe said. The Prime Minister held crisis talks with representatives of major political parties and met with Macron, who cancelled a two-day trip to Serbia amid the most serious challenge to his presidency since his election in May 2017.
On Tuesday, Philippe announced a freeze in electricity and natural gas prices until May 2019, and warned protesters against more disruptions. "If another day of protests takes place on Saturday, it should be authorized and should take place in calm," he said. "The interior minister will use all means to ensure order is respected."
The protests began last month with motorists upset over the fuel tax hike, but have grown to encompass a range of complaints, with protesters claiming that Macron's government doesn't care about the problems of ordinary people.
In all, four people have been killed and hundreds injured in clashes or accidents stemming from the protests.