PM May and EU trapped in "Brussels optimism"; Brexit deal debate suspended
Monday, December 10th 2018 - 18:24 UTC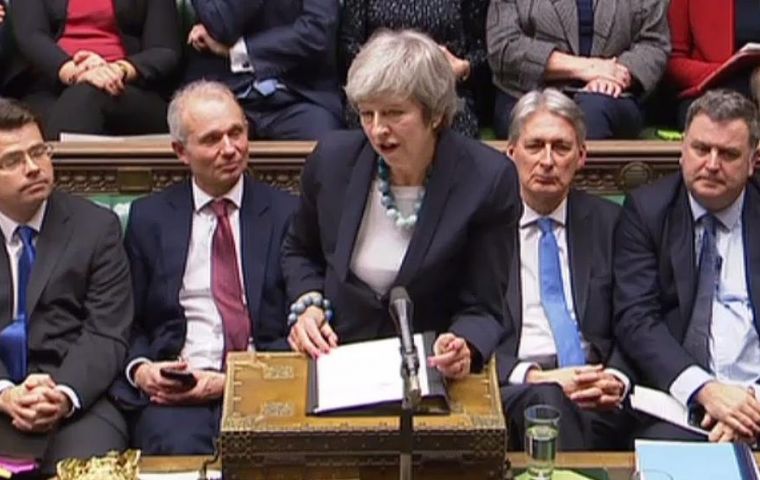 Theresa May says she has called off Tuesday's crucial vote on her Brexit deal because it "would be rejected by a significant margin". She said MPs backed much of the deal she has struck with the EU but there was concern over the Northern Irish backstop.
She said she believed she could still get the deal through if she addressed MPs' concerns. And that, she added, was what she intended to do in the next few days.
However, Speaker John Bercow - who chairs debates in the House of Commons - called on the government to give MPs a vote on whether Tuesday's vote should be cancelled, saying it was the "right and obvious" thing to do given how angry some MPs were about the cancellation.
In her statement Mrs May said she would be "deferring" the Commons vote until she had made efforts to address concerns over the Northern Ireland border "backstop" plan.
She told MPs she would be speaking to EU leaders ahead of a summit later this week, about the "clear concerns" expressed by MPs.
And she would also be "looking closely at new ways of empowering the House of Commons to ensure that any provision for a backstop has democratic legitimacy".
She wants to enable MPs to place obligations on the government "to ensure that the backstop cannot be in place indefinitely". She again rejected all other alternatives that have been proposed to her deal - including a further referendum and leaving without a deal.
Mrs. May said her deal "gives us control of our borders, our money and our laws - it protects jobs, security and our Union".
"It is the right deal for Britain. I am determined to do all I can to secure the reassurances this House requires, to get this deal over the line and deliver for the British people," she added.
Labour leader Jeremy Corbyn said the prime minister had "lost control of events" and the government was in "complete chaos" - and urged her to stand down.
The pound fell sharply in response to the reports earlier of a likely delay, shedding 0.5% versus the US dollar to stand at $1.26, an 18-month low. The pound was 0.8% down against the euro.
The deputy leader of the DUP - the Northern Ireland party whose backing Theresa May needs to win key votes - Nigel Dodds, said the situation was "quite frankly a bit of a shambles" and the PM was paying the price for crossing her "red lines" when it came to Northern Ireland.
But DUP leader Arlene Foster said she had told the prime minister in a phone call that the "backstop must go".