Otto Sonnenholzner becomes Ecuador's new vicepresident with 94 Assembly votes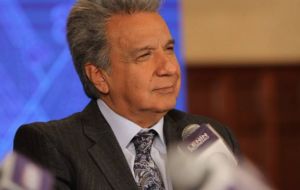 The Guayaquil-born Otto Sonnenholzner Sper took office on Tuesday as Vice-president of Ecuador, after being chosen by the National Assembly from a shortlist put forward by President Lenin Moreno.
With 128 assembly members registered for the vote, the final results were 94 affirmative votes, 27 negative votes and 7 abstentions. Only 70 votes were needed.
A request for reconsideration of the vote was denied and therefore the appointment was confirmed.
Moreno, currently in China on an official trip, posted on his Twitter account that the 35-year-old Sonnenholzner "is a young entrepreneur who is committed to working with all Ecuadorians and the government team for the future of the country."
Sonnenholzner was sworn in following a 15-minute break after the vote count to succeed María Alejandra Vicuña, who resigned over serious corruption allegations.
Of German and Lebanese descent, Otto Ramón Sonnenholzner Sper, was on top of the first of the list submitted by Moreno.
The other two candidates were Nancy Fabiola Elizabeth Vasco Noboa and Agustín Guillermo Albán Maldonado.