Arizona processor recalls beef infected with salmonella; company is subsidiary of Brazil's JBS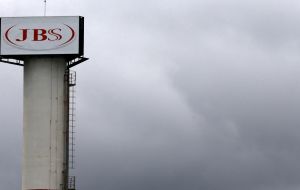 An Arizona meat processor in the United States is recalling 12 million pounds of raw beef that health officials say already has sickened 246 people in 25 states with salmonella. JBS Tolleson Inc. said it was voluntarily expanding an October recall by about 5 million pounds, making it one of the largest recalls of ground beef in history.
It's also one of the largest beef recalls involving the bacterial infection salmonella, said Bill Marler, a recognized food-safety lawyer in Seattle.
The beef products, which are primarily ground beef, were packaged from July 26 to Sept. 7, according to the U.S. Department of Agriculture, which inspects and regulates the meat and poultry industry.
The beef was shipped to retailers nationwide, the USDA said in a public-health bulletin on Tuesday. The list of affected products includes the following brand names: Kroger, Cedar River Farms, Comnor Perfect Choice, Gourmet Burger, Grass Run Farms Natural, JBS Generic and Showcase.
The products are marked with the federal inspection or "establishment" code "EST. 267" on the packaging.
JBS Tolleson is part of JBS S.A., the world's largest processor of meat and poultry and headquartered in Sao Paulo, Brazil. It reported more than US$ 50 billion in sales in 2017.
Officials with JBS did not return calls Tuesday. In a statement, the company said its highest priority is food safety.
"Based on the results of this investigation and a full evaluation of our internal processes and controls, we have made the decision to voluntarily test 100% of the beef trimmings produced in the Tolleson facility," officials said in the statement.
JBS has faced four other recalls of products in the past 16 months, including one last month tied to E. coli.
It recalled 50 tons of ground beef processed in Utah after federal inspectors found the bacterial infection in samples of meat at a company plant in Utah.
The three other recalls involved contamination of foreign matter in packaging, including plastic, metal and foam packaging.
JBS said no beef in Tuesday's expanded recall has yet been linked to cases of sickness. Officials said in their statement the added recall was "in the best interests" of public health.