Chile: Piñera needs constitutional reforms to change procedure for removal of Carabineros chief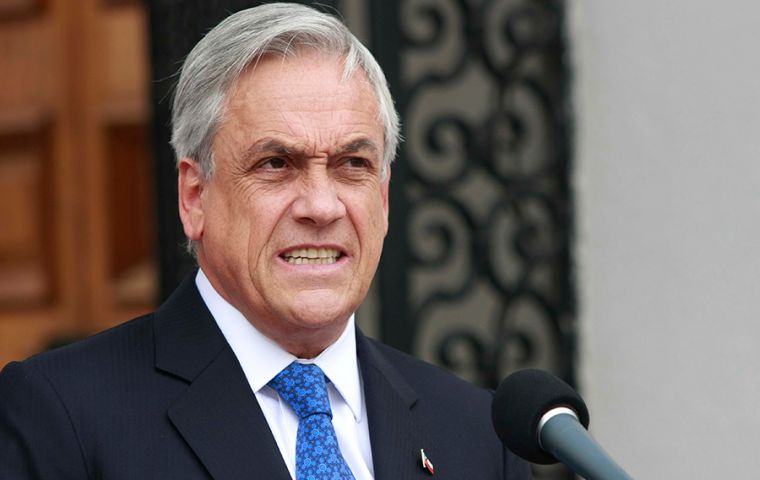 Chilean President Sebastián Piñera Wednesday morning announced he would seek a constitutional reform before Congress to bring to an end the "founded decree" mechanism to remove Carabineros' director generals after last week's dismussal of General Hermes Soto.
"I have a good opinion of Hermes Soto (...) but he was not the person to lead such a profound change in Carabineros," Piñera said.
Current Ministers Andrés Chadwick, Hernán Larraín and Alberto Espina brokered in 2004 a constitutional reform with the government of Ricardo Lagos, whereby the President regained authority to remove military and Carabineros commanding officers, but only by means of a "founded decree" and prior notice to both Houses of Congress.
The president also insisted on the need to have special forces to fight terrorists in Araucanía. "There are many people who understand that the threat is not the special forces; one thing is the GOPE [elite group also known as Jungle Commando] that made many mistakes and another are the special forces," he explained.
"I want to clarify that the Jungle Commando does not exist, it is the GOPE and the special forces with special training," Piñera underlined. The GOPE is known as Jungle Commando after the Colombian anti-terror group which has trained Carabineros in the past.
"Carabineros were attacked with weapons of war and they had to respond with rubber bullets," Piñera pointed out. "If they are attacked, they must defend themselves (...) but in the Catrillanca case, Carabineros fired on two unarmed people," he underlined.
When Piñera needed to remove Soto and appoint General Mario Rozas instead, the following dialogue unfolded, according to Piñera:
- "I want to ask for your resignation."
- "Just ask for it," replied Soto as he added he would not resign voluntarily, "because it would be to acknowledge a fault."
Soto stood by his words despite video footage released in the past few days which showed Carabineros' misconduct in the Catrillanca case in addition to withholding those videos from investigators, forcing Piñera to resort to a founded decree.
But that is not the only constitutional change Piñera's government needs.
Due to its lack of majority in both Houses of Congress, Piñera's ruling party needs "by January 31, when the legislative year ends, the main reforms of our program," the Secretary General of the Presidency Gonzalo Blumel said in a radio interview.
According to Blumel, reforms will be also sought on taxation, labour and pensions as well as that of Carabineros.
"We are working to expedite the viability and achieve agreements in the processing of tax reform and pension reform in Congress. The call is to advance these reforms because they can not keep waiting," said Blumel.