Massive security preparations for Bolsonaro's inauguration
Saturday, December 29th 2018 - 22:00 UTC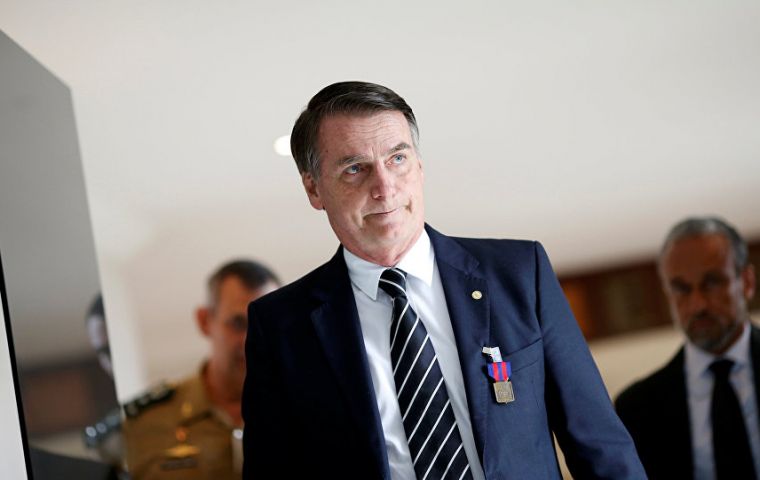 Authorities in Brazil say they are making massive security preparations for the inauguration of President-elect Jair Bolsonaro on Jan. 1. Security around the future president has been high since he was stabbed with a knife on Sept. 6, causing a ruptured intestine.
Authorities say their preparations for the inauguration are the most comprehensive ever undertaken. They say more than 3,000 police and military will patrol the event, while the military will deploy anti-aircraft missiles and fighter jets to protect the ceremony from the air.
The United States will be represented at the inauguration by Secretary of State Mike Pompeo.
On Friday, two of Brazil's largest left-leaning opposition parties — the Workers' Party and the Socialism and Liberty Party — said they will boycott the inauguration.
The Workers' Party had fielded former President Lula da Silva as its candidate, but he was barred from running after being jailed for corruption.
The party said in a statement that it recognizes the legitimacy of the national election, but said "the illegal prohibition of the candidacy of former president Lula and the criminal manipulation of social media to spread lies against candidate Fernando Haddad'' favored the far-right leader in the elections.
Bolsonaro, a far-right politician and former army officer, won 55% of the vote in the Oct. 28 presidential run-off. He won on a platform to crack down on crime and corruption in the country.
Bolsonaro and his inauguration team have excluded the far-left leaders of Cuba, Venezuela and Nicaragua from attending the event. Foreign leaders attending the ceremony include conservative Chilean President Sebastian Piñera and Hungary's far-right Prime Minister Viktor Orban.