Yet another witness in Odebrecht case found dead in Colombia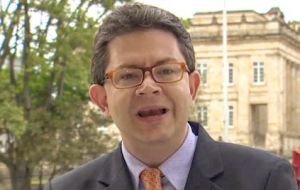 Colombian former Secretary of Transparency Rafael Merchán, who had been slated to testify in the local version of the Odebrecht corruption scandal, was found dead, it was reported.
The body of Merchán, 43, was found at his Bogotá home on Wednesday. Relatives of the deceased reported Thursday he had not been heard of since before Christmas and that the cause of his death seems to have been suicide.
"We do not have grounds to think he was pressured into it; it was a personal and autonomous decision," a relative was quoted as saying.
According to family sources, the anti-corruption crusader Merchán suffered from acute depression and it went deeper in the past few weeks. The death of his parents would also have influenced his "decision," the sources added.
The former Secretary of Transparency of the Presidency (March 2013 to October 2014) had been admitted by a judge, since last December 11 as a witness to the defense of the former National Infrastructure Agency (ANI) Director Luis Fernando Andrade, who is being charged by the Prosecutor's Office with taking bribes in the conclusion of contracts involving the Brazilian construction giant.
Merchán's death is particularly shocking considering Jorge Enrique Pizano, another key witness in the Odebrecht scandal, was found lifeless Nov. 8 of what medical examiners determined to be a heart attack in a report that was questioned three days later when his son Alejandro Pizano died of cyanide poisoning from drinking flavoured water that was in a bottle found on a desk that his father had in his house.
On December 20 the director of the National Institute of Legal Medicine and Forensic Sciences of Colombia, Carlos Valdés, resigned amid the controversy over the handling of the evidence on the death of Pizano.
Pizano was appointed comptroller of the investment firm Confircolombiana, a partner of Odebrecth in Colombia, to monitor the financial risks in the company's operations. Between 2013 and 2015, he detected payments of alleged bribes so that Odebrecht and its Colombian partners could win the 1,000 km highway contract for the Ruta del Sol II project, one of the largest infrastructure projects in the country.
Merchán had also testified in a proceeding against the former governor of Sucre Julio Cesar Guerra Tulena.
The results of his autopsy is to be released during the next weekend.