Sargassum killing Mexico and Caribbean beaches and tourism industry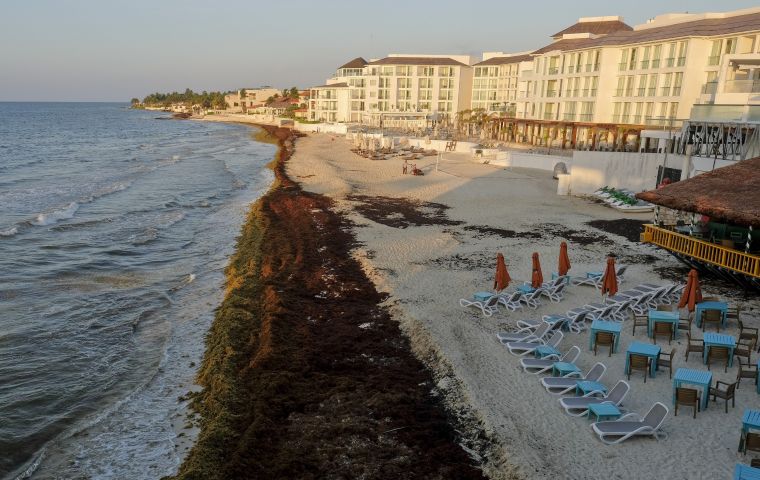 Tourists looking for sun and sand in Mexican resorts like Cancun, Playa del Carmen and Tulum have been disgusted by foul-smelling mounds of sargassum – a seaweed-like algae – piling up on beaches and turning turquoise waters brown, and experts are warning that it may be the new normal.
Mexico's Riviera Maya Caribbean coast provides half the country's tourism revenues, and very little sargassum reached it prior to 2014. But a possible combination of climate change, pollution from fertilizers and ocean flows and currents carrying the algae mats to the Caribbean has caused the problem to explode.
While it may not have the global impact of melting of polar ice, the vast mats of sargassum filling the Caribbean could be one of the more visible climate-change events because of the sheer number of people who visit the region's popular tourist beaches, some officials say.
"This is one of the biggest challenges that climate change has caused for the world," said the government of Mexico's resort-studded coastal state of Quintana Roo. "This challenge requires a joint, multinational effort and a global commitment."
While tourist arrivals at the Cancun airport were up 3.3% in March over the same month last year, many fear this will not last long with the sargassum befouling white sand beaches and blue waters, as well as the air – sargassum decomposes with a rotten egg smell.
As it decays and sinks to the bottom, it can also smother the coral the Caribbean is known for, and accumulations on beaches can make it harder for sea turtles to nest.
According to experts this is a Caribbean problem on the east coast that goes from Cancun all the way past Ambergris Caye in Belize."
The concerns may not be hyperbole: the sargassum mats appear even worse along parts of Mexico's coast than they did last year. And the problem affects almost all the islands and mainland beaches in the
Caribbean to an extent. The US Gulf coast got hit in 2014 and the east coast of Florida is getting sargassum this year.