World's biggest salmon farming company investigated for possible misreporting on chemicals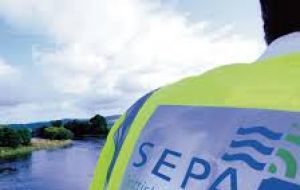 The world's biggest salmon farming company is one of a number of firms under investigation for possible misreporting of chemical use. The BBC can reveal Mowi, formerly known as Marine Harvest, is among those being investigated by Scottish regulators.
Farmed salmon are treated with medications to ward off disease and infestations, such as sea lice, but there are limits on how much is used. Mowi denied any wrongdoing and said it used medications sparingly.
Chemicals such as hydrogen peroxide, used to wash the fish, and emamectin benzoate, which is put in the salmon's feed, are used across the industry to tackle problems such as sea lice, which has become a major issue for producers.
There are concerns that the large amounts of pesticides, as well as feces and food waste coming from the thousands of salmon in the fish farm nets, could be damaging the environment in some of Scotland's lochs.
Mowi, the Norwegian-owned global company which produces up to 60,000 tons of salmon each year in the UK alone, said it had "confidence" in the numbers it had provided on medication use.
It said it was supporting regulators with a six-month audit.
Scottish Environment Protection Agency (Sepa) is increasing its inspections across the industry and taking a tougher approach following criticism of how salmon farming is regulated. It will publish new guidelines on salmon farming in the next two weeks.
Sepa chief executive, Terry A'Hearn, said: "If companies do the right thing, then they have nothing to worry about.
"If companies do the wrong thing, we are there to find that out and make sure they improve their game. If that's going to take tough action, you can be assured we'll take it."
Scotland has more than 200 fish farms in sea lochs around the west coast and Orkney and Shetland, where hundreds of thousands of salmon are reared in open-net pens.
Each farm has a license restricting the total weight of fish it can hold and the amount of chemicals it can use at any one time because too much harms the environment and kills creatures on the seabed.
Sepa uses samples from the seabed to test the impact of salmon farms.
Julie Hesketh-Laird, from the Scottish Salmon Producers Organization, said sustainable growth was in "everybody's interests". She added: "We want consumers, we want the public and anybody with an interest in Scottish salmon to be confident that the salmon farming sector is doing absolutely everything that it can to grow sustainably."