Germany's anti-Semitism boss advises Jews against wearing kippah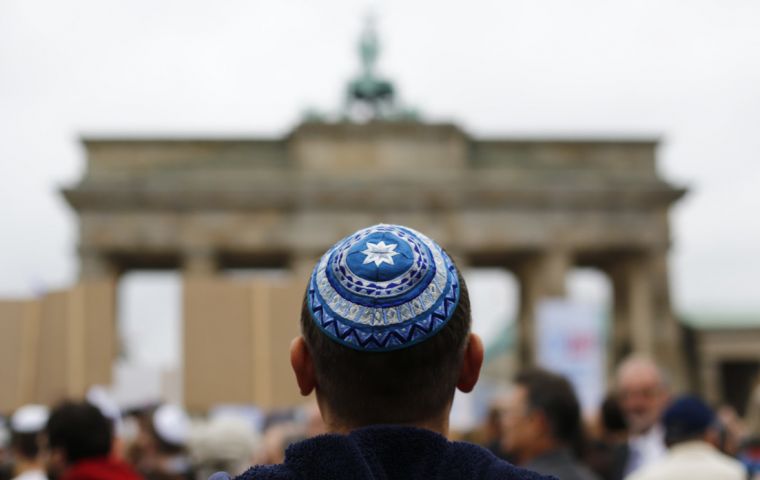 Germany's Federal Anti-Semitism Commissioner Felix Klein said in a newspaper interview published Saturday he would recommend the country's Jews not to wear their traditional skullcap known as kippah "anytime anywhere."
Klein regretted to admit he had changed his mind from previous public statements. "I can't recommend Jews to wear the Kippa anytime anywhere in Germany, unfortunately I have to say so," Klein told the newspapers of the Funke Mediengruppe.
He based his remarks on the "increasing social disinhibition and brutality," which presented a fatal breeding ground for anti-Semitism.
"Of course I believe that there must not be no-go areas anywhere in Germany for Jews or members of other minorities," Klein also said.
He also called for a more thorough training for law enforcement officers to deal with anti-Semitism: "There is a great deal of insecurity among policemen and government officials in dealing with anti-Semitism, and many officials do not know what is allowed and what is not."
He added anti-Semitism should be adequately taught at police academies as well as at teaching and law schools.
Israel's President Reuven Rivlin was shocked by Klein's comments. "The statement of the German government's anti-Semitism commissioner that it would be preferable for Jews not wear a kippa in Germany out of fear for their safety, shocked me deeply," said Rivlin in a statement Sunday.
Rivlin added that "we will never submit, will never lower our gaze and will never react to anti-Semitism with defeatism - and expect and demand our allies act in the same way."
Government statistics released earlier this month showed that the number of anti-Semitic and anti-foreigner incidents rose in Germany last year, despite an overall drop in politically motivated crimes.
Germany's main Jewish leader, Josef Schuster, told news agency DPA "it has long been a fact that Jews are potentially exposed to danger in some big cities if they can be recognized as Jews." He added that he pointed that out two years ago, "so it is to be welcomed if this situation gets more attention at the highest political level."
Bavaria's Minister of the Interior Joachim Herrmann (CSU), on the other hand, has encouraged Jews in Germany to wear Kippa in public. "Everyone can and should wear his kippa, wherever and whenever he wants to," said Herrmann, who added the kippa was part of religious freedom.
"If we buckle over hatred of the Jews, we leave the field to right-wing thought," he said.
Others were sharply critical of Klein's comment. Michel Friedman, a former deputy leader of Germany's main Jewish group, said it was an admission of failure and that "the state must ensure that Jews can show themselves everywhere without fear