Falklands remembers freedom of Goose Green residents locked up by Argentine forces
Friday, May 31st 2019 - 09:59 UTC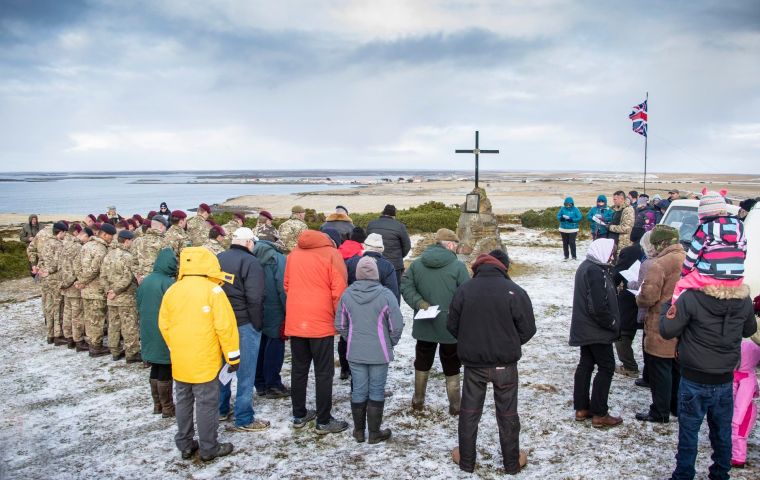 A very emotional ceremony took place last Wednesday at Goose Green in the Falkland Islands in remembrance of those who gave their lives for the freedom of the small community which had been locked up by the invading Argentine forces in 1982.
An estimated 100 residents, including women and children, from Goose Green and Darwin had to endure under appalling crowded conditions for almost seven weeks, at the Social Club, as prisoners of the Argentine military.
Thus every year on the 29th May, since 1982, when they were liberated by the 2nd Battalion the Parachute Regiment from captivity at the hands of the Argentine forces, the people of Goose Green and others who were locked up with them in the Social Club, gathered with serving members of the British Armed Forces in remembrance of those who liberated them from captivity and gave their lives for their freedom.
This year was no exception, despite very chilly conditions on Wednesday, the service of remembrance at the 2 Para Memorial at Darwin, overlooking Goose Green, was conducted by the Rev Ian Faulds and wreaths were laid by HE the Governor, MLA Ian Hansen, and a representative of the Commander British Forces South Atlantic Islands.
Back in 1982 when news came of the landing of the Task Force in San Carlos, Argentine forces in Goose Green dug into well defended positions. After two days of fierce fighting and threats of massive British air support and naval artillery, Argentine forces turned in their arms and surrendered.
According to military reports from the time 2Para suffered 15 dead including Colonel H Jones, and thirty wounded. Argentines lost 55 men and close to a hundred were wounded. (PN)