Falklands challenged by the complexity of Brexit uncertainties, but will fight for a "fair deal" pledges Governor Phillips
Tuesday, June 4th 2019 - 19:29 UTC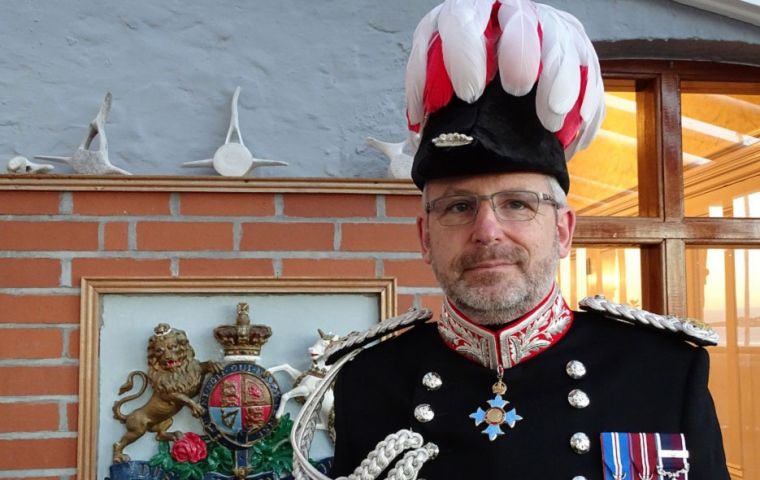 The challenging complexity and uncertain consequences of Brexit, progress in understandings with Argentina, including the second weekly air link to Sao Paulo, a sound economy with financial stability and the strong commitment of the Falkland Islands population with representative democracy, were outlined by Governor Nigel James Phillips, CBE in his annual address to the elected Legislative Assembly of the Falkland Islands.
Follows the speech delivered this Tuesday,
Mr. Speaker, Honourable Members,
I am pleased to stand before you today and provide the Governor's Annual Address, which comes as the second Budget of the current Legislative Assembly is put before the House.
Last year I highlighted how increased voter turnout at the past election was evidence of how strongly islanders feel about making representative democracy work.
This year I would like to outline how the Government plans to ensure that the interests of the community are clearly reflected in its priorities for the next financial year.
Our people are our greatest asset and this Budget is our blueprint for creating a new generation of prosperity and opportunity for our population; one where economic success and social mobility are not purely aspirational, but manifest in solid opportunities that are open to everyone.
To do this we must continue to be ambitious, we must continue to be bold, but above all we must strive to create and cultivate the right conditions and a strong financial foundation.
It is this foundation that will allow us to invest in important social and economic priorities, programmes and services to improve the quality of life for all Falkland Islanders.
Fiscal context
Speaking of our need for financial stability, the economy continues to perform well and there is likely to be an excess of income over expenditure yet again this year.
The foremost contribution to this has been corporation tax receipts from the fishing industry and other businesses, sale of fishing licences and income from investments managed as part of the Consolidated Fund.
Government finances are in a good position, fortified by strong reserves and a prudent fiscal approach to spending, both of which will enable us to invest further in our capital and service improvement programmes.
Banking services are also essential to the growth and resilience of the economy and Standard Chartered Bank continues to be a welcome presence in the Falkland Islands.
I am also pleased to note the efforts of our elected members and Financial Secretary, to give local businesses access to international banking facilities – including card-based financial transactions – and to opening up the world of e-commerce.
Political context
Speaking of our economy, we have spent much of the past year making our voice heard in the context of the continuing Brexit negotiations.
This complex situation is one which may have significant consequences for our fishing and agriculture, which is why we are working hard to ensure our interests are understood and remain firmly in the minds of UK negotiators.
While there is still uncertainty around the implementation of Brexit and its impact on future relationships between the United Kingdom Overseas Territories and partners in Europe, we will continue to ensure we are well-prepared for a range of possible outcomes that could impact on our nation.
This includes understanding what opportunities may exist in a post-Brexit world. Whatever the outcome, we will continue to make the case for a 'fair deal' for the Falkland Islands.
In terms of the geopolitical situation, this year we have also seen progress with the commitments outlined in the 2016 UK-Argentina Joint Communiqué.
Good progress has been made toward signing a contract with LATAM airlines to operate a new weekly route between São Paulo and the Falkland Islands. This route will open up the Falkland Islands to multiple new destinations in South and North America, Europe and Asia.
In preparation, the Government has worked closely with the Ministry of Defence to ensure that the necessary security, infrastructure and logistical arrangements are in place to accommodate the new flight. The Government has also agreed to invest in the installation of instrumentation to help improve the forecasting of rotor systems at Mount Pleasant Airport.
The additional air link should stimulate an increase in economic activity of more than £2 million annually, through growth in tourism, retail and hospitality sectors. This is a significant achievement for our Government and one which will benefit the islands both socially and economically, and strengthen our connections to the outside world.
Progress has also been made in shared fisheries research over the past year, with two meetings of the Scientific Sub-Committee of the South Atlantic Fisheries Commission and the reinstatement of the fisheries data exchange. In February a joint research cruise took place to investigate the Illex squid resource; this helped to provide information needed to develop plans for a regional management agreement for sustainable marine resources.
This progress is welcome. However, the matter of sovereignty is not up for debate. As UK Prime Minister Theresa May reaffirmed in her 2018 Christmas address, as long as the people of the Falkland Islands wish to remain part of the UK family that will never change.
The Islands Plan 2018-2022 – update on initiatives
Mr. Speaker, you will recall that in April 2018 the Government published The Islands Plan, in that time I am delighted to report that significant progress has been made against many of its key objectives and ambitions.
If I may begin with an update on broader thematic initiatives; the Government has sought to build greater openness and transparency, and in this area it has been working to improve its digital communications.
Firstly we have implemented a new intranet network to help improve information sharing and collaboration across Government; this will be followed by the launch of a new public-facing website later this year.
Our MLAs have also increased their accessibility to the public with the introduction of a new social media group, as well as a monthly newsletter and regular public meetings in Stanley and in Camp.
Members have also announced that a referendum will be held in November 2019 on the proposal to move to a single constituency, in readiness for the 2021 General Election.
This January a constitutional review was launched which aims to ensure that the Falkland Islands constitution 'remains modern and fit for purpose'. The public has been asked to submit evidence for consideration relating to the current constitution which has been in place since 2009.
We have also continued to engage with the UK Government on a number of issues including Brexit, the environment and our relationship within the wider UK family. Only last month, MLAs travelled to the UK for a series of meetings with the oil industry, trade partners and parliamentarians.
We have also continued working toward strengthening our relationships with partners from further afield. In March we appointed a new full-time Falkland Islands Adviser, based in Montevideo, who will work with us to improve awareness and access to markets in the region.
We also held another successful season of inbound public diplomacy visits which saw 14 separate trips involving journalists, agriculturists, students and scientists from across mainland South America.
The Falkland Islands supports the principle of ensuring that we have a fair and equitable society where no one can be left behind and everyone can have a decent and fair standard of living. For this reason we have reviewed all of our income support programmes in the past year and will be taking steps to ensure that people can access the support that they need.
We also recently introduced the new Travel Credit Scheme to make travel more affordable for status holders and we have begun to see improvements to the quality and safety of nursery and childcare provision following recent reforms.
Looking forward, this year we will see an increase in our Minimum Wage as well as the introduction of a childcare subsidy for lower income households, to help alleviate pressures for parents at the lower end of the economic scale.
The Islands Plan 2018-2022 – update on capital investments
Mr. Speaker, last year we demonstrated how the spending commitments made in the Budget would be closely aligned with the strategic priorities outlined in both the Economic Development Plan and The Islands Plan.
Before I elaborate further on the achievements made in moving forward with these projects, I would like to take a moment to mention the progress our Government has made in ensuring that we have the necessary capacity to take our capital programme forward.
In the past our ability to deliver projects at the desired scale and pace has been restrained by the availability of resources. To counter this, last year the Government established a professional services framework and invested significantly in plant machinery and equipment to allow plans to proceed.
Our capital programme is ambitious, and offers not only significant opportunities to attract international inward investment, but through effective resourcing will mean that it can continue to deliver far into the future.
Turning to our successes of the past twelve months, a key priority was to accelerate the resurfacing of the MPA road. I'm delighted to say that this year we have completed 3.95 miles of surfacing, which is two-and-a-half times the distance completed in previous years.
Survey work for the next section of road has already begun and the target for next year is a further 3.1 miles which will take the new asphalt up to Bluff Cove. This is a huge accomplishment that will benefit the whole community and truly symbolises progress on the ground.
I would like to thank the Public Works Department for their many hours of hard work; it is an achievement that every single member of the team can be proud of.
Progress has also been made in the development of a new power station, with the completion of a public consultation in early 2019 to gain feedback on the preferred site for the new facility. Once the location has been agreed in the next few months, the detailed design work will begin.
Building on the outcome of a soft market test, in March the Executive Council approved the step of issuing an 'Invitation to Tender' to the global market, for a preferred partner to undertake the design and construction of a new sea port.
The detailed engineering work is expected to be complete in 2020 with construction starting soon after. Ensuring we have modern port facilities is vital to the health of our economy as it supports the growth of our fishing, imports and exports, tourism and scientific research.
Work is also beginning on the long-awaited multi-purpose sports facility, following a detailed public consultation and agreement by Members to increase funding for the project.
I have already mentioned the work done to secure the second commercial international air link, but just as important is the progress made over the past year in strengthening our government air service.
FIGAS has seen another record year with a 6% increase in passengers and freight transported over the past twelve months. We continue to invest in this vital community asset with funds for pilot training, engineering and fire services, as well as continuing with the avionics and engine replacement programme. We have also ordered an additional four new engines and two new aircraft will be in service before June 2020.
I would also like to recognise the fact that 2019 marks the 70th anniversary of the Falkland Islands Government Air Service which is an incredible accomplishment and I send my congratulations to the team on achieving this milestone.
Speaking of milestones, this year has seen the acceleration of investments in housing. In 2018 funding was agreed for the construction of a further 10 houses as part of the Phase 5 Sapper Hill development. Earlier this year the Government acquired 18 acres of land to the east of Stanley Golf Course which will accommodate 70 individual housing plots as part of Phase 6 of our plans. The new road link between West Stanley and Sapper Hill is already under construction.
We also continue to work closely with the Ministry of Defence to identify opportunities for collaboration and in February, a joint 'Expression of Interest' was launched for the provision of 70 new high quality homes. This proposal aims to attract a housing developer that can provide investment and deliver capacity to help meet our housing targets.
Our capital plans are at the heart of efforts to enable future economic expansion and we are in the process of finalising our national infrastructure plan. We aim to publish the updated version in the near future so the public can see the scale and scope of our commitment to improving the islands.
Agriculture
Mr. Speaker, if I may turn now to the progress made across Government in the past year. I would like to begin with agriculture as it remains a cornerstone of our economy.
I'm pleased to report that it is currently a very buoyant sector and sustained high wool prices have resulted in an income of £8 million over the past year for our farmers.
The Department of Agriculture has also been working hard to establish links with organisations around the world, to ensure we remain at the forefront of agricultural innovation. As a result we have continued to improve the quality of our wool through enhanced testing methods and development of the National Stud Flock through the use of cutting edge genomic technology.
Speaking of technological advances, our veterinary and biosecurity services continue in their efforts to help protect our local fauna and flora. Following recent equine influenza outbreaks in the UK and Chile, we worked closely with the community to raise awareness and ensure we could remain free of the disease without the need for vaccinations.
This focus on prevention and protection is essential, as demonstrated by the fact that last year 48 non-native species were intercepted during inspections of incoming cargo, which is almost one every week.
These stringent controls and measures are all vital in helping guard against unwanted pests and diseases, protecting the future of farming and our native plant species.
Marine and fisheries
Moving to our maritime sector, I'm pleased to confirm the implementation of the Maritime Ordinance and Harbours and Ports Ordinance has moved forward.
This includes the development of the new Falkland Islands Maritime Authority; we are making good progress in this area and are already working with the industry and with the UK Maritime and Coastguard Agency to improve vessel safety standards.
Last year saw record catches of Falklands Calamari equating to 80,000 tonnes and the 2019 season has also got off to a strong start. However this is in contrast to the Ilex fishery, where catches have remained modest, and Government is working with the industry to ensure its long-term viability.
I would also like to celebrate the registration in the Falkland Islands of the 'RRS Sir David Attenborough', a new polar vessel operated by the British Antarctic Survey for the purposes of research and logistical support. This will be a very welcome addition to the fleet and demonstrates the strong links with the UK's maritime sector.
Oil
Mr. Speaker, over the last year discussions with Premier Oil on developing the Sea Lion oilfield have progressed well. In November, the Executive Council received a comprehensive Environmental Impact Statement and the recommendations contained in the covering report were approved.
Our licensees have spent much of the past year fine-tuning the project, with contractor selections enabling the final stages of detailed design and cost estimation to be drawn together. This will enable an informed final project sanction decision to be taken, along with the final regulatory approvals.
Commercial and regulatory stakeholders now have a detailed view of how oil development in the Falkland Islands would be delivered and supported. This will enable the licensees to make their final investment decisions and an update on progress is expected early in 2020.
In the meantime we have continued to work diligently with the UK Government, non-governmental organisations, the industry and other stakeholders to ensure that we have robust regulations in place for important areas including the environment, safety and local content.
We have been clear in all of our work that we will apply best practice to protecting our seas from any potential impact as a result of hydrocarbons exploration and extraction. While good progress has been made, the project is a significant undertaking and there is still much to do.
Environment
Speaking of the environment, I am pleased that during the last twelve months the Government launched a full review of every piece of environmental policy and legislation to make sure that these truly reflect the specific needs of our unique biodiversity. This review will result in the future development of a comprehensive environmental strategy for the whole of the Falkland Islands over the coming year.
Waste management remains an issue of public concern. To tackle this, we have already committed £250,000 towards implementing the first phase of a new system for glass recycling.
Work is well-advanced to finalise options for a modern and environmentally responsible waste management system in the coming weeks. Our preference will be to implement an islands-wide solution that will incorporate the requirements of both the Ministry of Defence and the local community.
The Commons Management Plan will also go to the Executive Council this month to support the implementation of the Commons Ordinance, which will ensure that this important national amenity remains protected and available to all.
Tourism and sports
If I may turn to tourism, the 2018/19 season was another huge success for the sector. Firstly, we saw the largest ever number of cruise ship visitors with a record 62,505 people choosing to come ashore and visit our beautiful home.
The Tourist Board welcomed over 74,000 visitors to the Jetty Visitor Centre this year; a huge increase of 4,000 which proves our growing popularity as a destination of choice.
I'm also certain the introduction of the new international flight will mean the sector will continue to enjoy increasing growth – in the medium and long term – with visitor numbers for the next summer season estimated to see an increase of 10%.
In the coming year we will work with industry partners to investigate further options for land-based tourism, including visitors to Camp. We will also review the potential for attracting more expedition cruise vessels through our gateway initiative, in order to provide new opportunities for tourism, science and research.
Talking of travel, I hope that the success of our players at the Punta Arenas Mega Patagonian ice hockey tournament last August did not escape people's notice. Our Falklands teams won gold in all of their categories, which is no mean feat for a nation which doesn't have its own ice rink! I extend my congratulations to the players and my thanks to the Hockey Association and all local sports groups who work tirelessly to offer sporting opportunities to our community.
In November we welcomed the Football Association to the Falkland Islands to play two matches, one against the home side in Stanley and one against the British Forces South Atlantic Islands team. Their arrival caused quite a buzz and the matches drew a large crowd of excited spectators.
Finally, it was lovely to see the success of the Falkland Islands Sports Personality of the Year Awards in April. I hope that these winners will go on to further victories in July at the International Island Games in Gibraltar; good luck to you all.
Health and wellbeing
Moving to health and wellbeing, this is a clear priority for the Government which will invest £24m in services this year.
Our focus is firmly on improving the health and wellbeing of our community and ensuring that people can enjoy the best possible quality of life, with our support where and when it is needed.
To this end, the Government has recently agreed to establish a Public Health Unit which will engage with the community on matters relating to preventing ill health and promoting wellbeing. The unit will provide insight into how the health of our nation is faring to help us ensure we have the right interventions in place to support people.
Work regarding mental health is also moving forward, with staff having now received training to further develop their skills to support people with mental health needs. Work to develop our new mental health strategy is also continuing.
This year we have made further progress with a series of capital works including the new extra care facility which will now be officially named 'Tussac House'.
This development will provide a home for the most vulnerable people in our community. The design is now finalised and the project has been split into three distinct phases; the first phase – 'Enabling and Ground Works' – will begin shortly.
Improvements to King Edward VII Memorial Hospital have advanced over the past year and the new CT scanner and mammography suite will be in place in the next year.
These welcome additions are part of overall renovations to improve the hospital environment, enabling us to provide more diagnostic and medical procedures, meaning fewer patients will need to travel abroad for routine care.
Agencies across Government continue to work together on matters relating to safeguarding for adults and children.
This year we have also seen the introduction of the Nurseries Ordinance and associated investments which aim to improve safety and quality of childcare provision.
We also launched a domestic abuse campaign throughout the islands which aims to help people recognise when they or someone they care about is in harm's way.
Education
Mr. Speaker, last year I was able to report on the success of students at the Falkland Islands Community School with respect to their GCSE examination results. This year I am pleased to be able to say that the results from 2018 were the best that FICS has seen in three years.
In total 177 GCSE exams were taken in 18 subjects by 23 students and 63% of these achieved good pass grades; the pass rate for all GCSEs taken last year was 98.87%.
I also understand that the exam results for science subjects were particularly impressive with every single student having met or exceeded their target. This is excellent news and I hope that our students will take pride in their hard work as they move to the next phase of their education or vocation.
As part of the Government's review of social infrastructure, we have started an appraisal of our educational premises. This work has involved looking at issues of space and safeguarding as well as seeking feedback from the community on how best to meet the growing needs of the student population. The outputs from this review will form part of the plans for improving educational sites, equipment and resources in the future.
I am pleased to confirm that groundworks have begun for the construction of the new Falkland College, which is expected to be complete before the end of the year. This facility will provide apprenticeships and life-long training opportunities for Falkland Islanders.
From September there will be a new leadership and management structure in place in our schools, with an Executive Head working across the Infant Junior School, Camp Education and the Falkland Islands Community School. Each school will also have a Principal and a Deputy Principal.
These changes aim to strengthen management and bring the schools closer together and create an environment for teaching and learning that is stable and supportive for students and staff alike.
As the House will know, the Government feels strongly that the provision of high quality education is a priority for us and this applies to everyone within the community. This is why we are investing £10m in education services to help provide people with transferable skills that support their aims in life, regardless of occupation or life role.
We believe that the provision of lifelong learning and education opportunities is not only essential to members of our community, but is a hallmark of a forward-thinking and progressive country.
Safety and security
Mr. Speaker, I would now like to address the topic of public safety and island security.
The past year has seen continued investment in the Royal Falkland Islands Police and recent recruitment campaigns have resulted in local constables joining the force. This can be seen as a measure of increased confidence in RFIP.
The community policing model continues to be developed, alongside the delivery of the Police Improvement Plan which includes a clearly defined career path for local recruits.
A recent independent review of RFIP confirmed many positive areas of performance, further proving that improvements instigated by the force are already bearing fruit.
This year we have also delivered the improvement plan for the Falkland Islands Defence Force and have made further significant investments in FIDF for the provision of new equipment. This, together with the forging of even stronger relationships with BFSAI, means we will continue to see further modernisation of the force and development of its capabilities in defence of our islands.
In the past twelve months we also made investments in resources to support the implementation of the Immigration Ordinance. This work will help us expand our much-needed labour force and streamline the processes involved in obtaining permanent residence and Falkland Islands status.
We have also seen positive improvements in processing air passengers and enhanced security at Mount Pleasant Airport.
Her Majesty's Prison service continues its focus on staff development to ensure that local talent is trained and retained, and to increase overall professionalisation across the service. The prison continues to prioritise behaviour programmes involving purposeful activities to support improved rehabilitation outcomes for offenders.
The Fire and Rescue Service continues to recruit and retain a strong volunteer workforce due to the service's emphasis on staff development, including First Response Emergency Care certification. This year will also see the arrival of a new fire tender which represents a significant investment on behalf of the Government in this vital service.
Legal and regulation
This year has also seen advancements in telecommunications with the introduction of increased broadband allowances in July 2018 as well as the rollout of a new 4G network and the extension of the existing 2G network to remote areas.
The Government continues to work with the monopoly provider to help measure performance and target future investments.
Furthermore, the Regulator has been working hard to put in place plans to improve telecommunications services which remain a challenge for the islands. This has included the introduction of a new Spectrum Management Framework and the development of a new national Broadband Strategy.
To support the strategy development, a 'Communications Week' was held in March this year. The purpose was to update the public on telecommunications developments and to gain feedback from domestic and business broadband users to quantify demand.
The week was very successful and gave members of the community the opportunity to help direct the development of connectivity within the islands.
Civil service
Mr. Speaker, this year the civil service has put The Islands Plan at the heart of its activities.
It has worked closely with Members to ensure a keen focus on prioritising the goals for the first year of delivery and then deciding how this progress should translate across into the Budget for 2019/20.
We are accelerating the pace of implementation, closing the gap between strategy and delivery, and putting policy into practice, by ensuring we have the right management and resources in place.
We have also been hard at work to develop initiatives to recruit and retain talented, hard-working professionals, including highlighting opportunities for Falkland Islanders to make their long-term career within Government.
In July, a new online recruitment platform was launched to give the Government a truly global reach, and over two-thirds of contract officers with one years' service have already extended their contract to beyond their original term.
We are also well on the way to implementing the refreshed Management Code and launching a new learning and development programme to maximise the contribution each employee can make to delivering the ambitions of this Government.
I would personally like to add my thanks to all of our public sector workers for their valuable contributions every day. Often behind-the-scenes, they play a crucial role in ensuring that our services and systems run as seamlessly as possible.
Partnerships
Together we are stronger. The Government could not fulfil its aim and ambitions within the input and support of partner organisations.
We continue to liaise closely with Falkland Island businesses to ensure that the lines of communication are always open and that there is a spirit of collaboration underpinning our work.
We also continue to collaborate with the UK Foreign and Commonwealth Office on key economic issues such as Brexit and securing the second commercial flight, and appreciate their support in such matters.
We are also making progress in identifying opportunities for joint working across a range of projects with the Ministry of Defence; including identifying where local businesses can become involved in the delivery of capital projects and providing goods and services for the Government or MoD.
This collaboration is essential in moving the Falkland Islands forward and in creating a 'one economy' approach.
Conclusion
Mr. Speaker, I hope you agree that the highlights I have set out in this address clearly demonstrate how much progress has been made in delivering on the commitments outlined in The Islands Plan.
The Government will continue to listen to the public and to cooperate with our partners to ensure we make the right choices and create opportunities that will drive our country forward and provide the foundation for a fantastic future.
Mr. Speaker, Honourable Members, I look forward to the year ahead with a sense of optimism and resolve. As we have said repeatedly when making our case for a fair Brexit deal: 'We may be small, we may be far away, but we don't want anyone to forget about the Falkland Islands and our people.'
To be clear, not only does self-determination describe how we govern ourselves, but also how we choose to develop our country.
Thank you.