Falklands' delegation in UK meets oil representatives, trade partners, ministers and MPs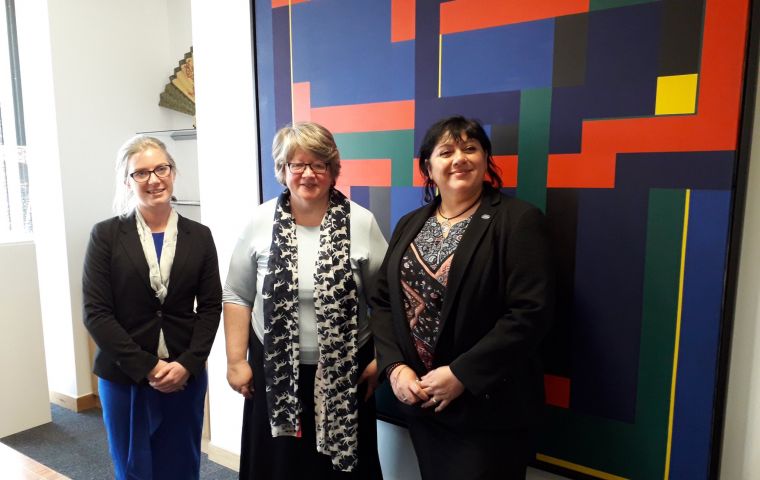 Members of the Falkland Islands Legislative Assembly along with the Chief Executive Barry Rowland visited the UK in mid-May to undertake a number of meetings with the oil industry, trade partners, Government officials, ministers, and parliamentarians.
MLAs Spink and Barkman both spoke to Penguin News this week and MLA Spink began by saying the meetings in London, "were very good. We had lunch with Emily Thornberry (Shadow Secretary of State for Foreign and Commonwealth Affairs) Nia Griffith (Shadow Defense Minister) and Nick Brown (Chief Whip Labour party) and Ian Laverry, Chair of the Labour Party. They are all very positive about the Falklands; we have great support there… We have cross party support in London."
He said Premier Oil gave a presentation on the Sea Lion development in London and in Aberdeen "we (MLAs) were there to show the government would be moving forwards with all of the necessary legislation to make sure that they could get the project to sanction. That gave the vendors, the people who are going to be doing various bits of work, some confidence that the government would be ready in time for the project sanction period."
MLA Spink added: "There's about US$ 2 billion worth of work that has gone into UK just in the exploration rounds for oil in the Falklands and the Sea Lion Development would generate a significant amount of money for the Aberdeen area and the north East of England and with all that is going on with Brexit that is a very positive input of funds into the UK and I think that message got across."
Andrea Clausen for the Chamber of Commerce and Martin Slater from FIDC were also in Aberdeen said MLA Spink, "so they were able to explain about local content, utilizing local companies where possible in supply of services to the oil companies."
He said there was still a long way to go until project sanction "but it's a step that hopefully gives people confidence to move forward."
Asked what was left to do before the project was launched MLA Spink said there was a
whole checklist of things including project finance and on the environmental side.
MLA Barkman told Penguin News that while in London she and the new Falklands Representative Richard Hyslop met with the Department for Exiting the Eu.
MLA Barkman assured that, "everyone is informed. They know we, after Gibraltar, are the most impacted by Brexit, and potentially the most impacted in terms of trade - that is well understood by the policy makers who at the moment are deciding how to implement a withdrawal agreement.
And we can be confident that when it comes to a withdrawal agreement, of whatever type, the people there understand our situation completely and won't accidentally create something that will leaves us out of a certain area."
She also attended meetings with the Ministry of Defense at a high level on matters of waste management, joint procurement, "and areas where we still need to work very cooperatively, for example in regards to the rotor events; that went well and we will continue to push generally. It's good to get that contact and know it is taken seriously."