Good sales prospects from China for Argentina's 56 million tons of soybeans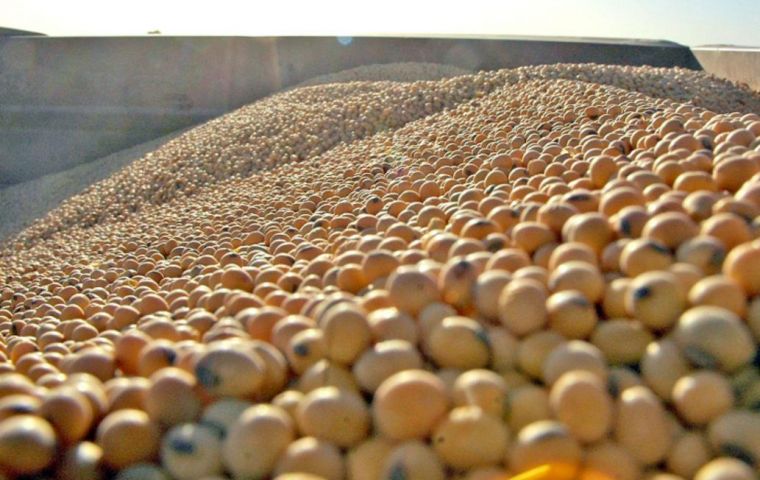 The soybean harvest in Argentina for the 2018-19 crop year is almost complete, according to the Buenos Aires Grain Exchange. The forecast for total production was the second-highest in 19 years at 56 million mt, up 48% year on year due to a better than expected yield of 3.35 mt/hectare, BAGE said.
Higher soybean production in Argentina could lead to increased competition with Brazil, as China looks to South America for soybean purchases amid the ongoing US-China trade dispute.
Argentina was forecast to export 7.75 million mt of soybeans in 2018-19, a 267% increase year on year, according to a recent report by the US Department of Agriculture.
Argentina is the world's third-largest soybean producer and exporter, and the biggest soy meal and soy oil exporter. Due to improved crush volume, Argentine soy meal exports in 2018-19 were forecast to grow 10% year on year to 31.0 million, and soy oil exports to be up 11% to 5.6 million mt, the USDA said.
The cumulative soybean harvest stood at 55.4 million mt, BAGE said.
Due to the favorable weather conditions since early this year, the harvest level was 2.9 percentage points above last year and 5.2 points ahead of the five-year average, BAGE said.
Last year, Argentina suffered an extended heatwave that hit the moisture and yield forecast for soybeans. Favorable weather conditions since early this year have seen soybean yield and production estimates revised upwards.
The first soybean crop was 98.8% harvested as of Wednesday, while 98% of the second soybean crop was harvested, the report said.
Planting of first soybeans takes place in September, while the second soy crop is planted in November.
If China's import tariffs continue to hit US soybean sales, limited Brazilian supplies this spring may encourage more Argentinian beans exports, the USDA said.
Brazil-origin soybeans are being sold to China at an increased pace since the US-China trade dispute, grain exporter AgriBrasil reported.
"Brazil soybean stocks during second half of 2019 are expected to be down up to 25% year-on-year, so China may have to increase imports from other countries, like Argentina," said Terry Reilly, senior commodity analyst with Futures International.
Last July, China put an additional 25% import tariff on US-origin soybeans in response to tariffs the US had placed on Chinese goods. As a result, US soybean exports to China from October to March fell 78% year on year to 5.2 million mt, as Chinese buyers looked to Brazil and Argentina.