Trump to launch reelection bid on Tuesday in Orlando, Florida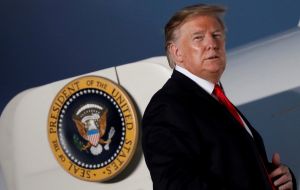 As President Donald Trump prepares to formally launch his re-election bid on Tuesday, his allies are trying to tamp down headlines that depict his campaign as trailing top Democrats, beset by withering leaks and unable to keep internal tensions from spilling into public view.
The 2020 drama intensified over the weekend, as Trump's campaign abruptly fired three of its pollsters, including one polling firm formerly owned by Kellyanne Conway, the president's adviser and former campaign manager.
Privately and publicly, campaign advisers fumed over the leak of internal polling data that showed Trump far behind former vice president Joe Biden in key states - a pattern that has touched a nerve with the president.
"Only Fake Polls show us behind the Motley Crew," Trump wrote on Monday on Twitter, referring to the crowded Democratic field. "We are looking really good, but it is far too early to be focused on that. Much work to do! MAKE AMERICA GREAT AGAIN!"
But the campaign's first major public stumble - culminating in a personnel shake-up on the eve of Trump's re-election rally in Orlando, Florida - served to undercut its well-laid efforts to portray the president's 2020 bid as a well-oiled machine ready to carry him to a second term.
The president might seek to change the subject on Tuesday at the rally, where he will address a crowd he has already described as record-size. He will be joined by first lady Melania Trump, Vice President Mike Pence and several members of his family and 2016 campaign staff.
Trump's advisers said the president's supporters, who are expected to fill the 18,500-seat Amway Center, are not paying attention to internal machinations of the campaign and won't be swayed by early signs of turbulence.
"Nothing will get in the way of the tremendous kickoff and the momentum the president will have and sustain through Election Day next year," said Trump campaign communications director Tim Murtaugh.
Trump will take the stage in Florida to make the case that the first 2 1/2 years of his administration have been about "promises made" and "promises kept," advisers said. He will point to the strong US economy and a slew of actions he's taken on issues ranging from taxes to military spending to judicial appointments.
While an economy with low unemployment and steady growth would normally be a solid tail wind for an incumbent president, the Trump campaign is facing signs of a tough path to re-election.
The 17-state poll conducted by the campaign in March, for example, showed Trump trailing Biden by double digits in Wisconsin, Pennsylvania, Florida and Michigan, ABC reported on Friday. Trump's approval rating has also been stuck around the 40% mark throughout his term.
Most of the two dozen Democrats seeking to oust Trump have not spent much time discussing polling that shows Trump could be headed for defeat. After Trump's 2016 victory defied most pundits, there is a fear that polls for 2020 may be wrong.