Argentina lines up for the August primaries; three leading presidential tickets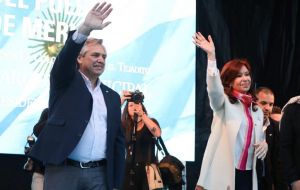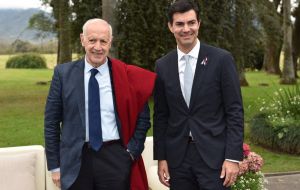 Months of intense political negotiations and last minute nerve breaking deals came to an end in Argentina on Sunday's zero hour deadline, when the different political groupings had to present to electoral authorities their list of presidential hopefuls, as well as future lawmakers.
These names, tickets and slates will be disputing the so called PASO primaries, open, simultaneous and mandatory, next August 11, and those who manage more than 1.5% of votes in this dispute, will be able to participate in the general election of October 30, when besides the Executive, 130 Lower House seats and 24 (out of 72) Senate benches will be up for grabs.
For the August PASO primaries, nine presidential tickets were registered, of which three have the best chances in October. They are incumbent president Mauricio Macri, who this time is running in the ticket, seeking reelection, with a Senator from the opposition, a move that has been considered brilliant given Miguel Angel Pichetto's moderate, dialogue reputation and decades in the Senate. He was head of the opposition Peronist block in the upper house.
Macri's main rival is the Fernandez/Fernandez ticket, made up of Alberto Fernandez, a former cabinet chief of ex president Cristina Fernandez, who was handpicked by her to lead, while she remains as vice-president hopeful. It was also considered a surprising and brilliant move since obviously Cristina Fernandez has the votes, and it was the vice president who picked the presidential candidate (unique case in world politics). However Alberto Fernandez insists he will be running the show if elected president.
A third ticket with chances is that of Roberto Lavagna with Juan Manuel Utubey, who are competing under the banner of Federal Consensus 2019. Lavagna is an economist and was ex president Nestor Kirchner's finance minister who helped put the house in order following the 2001/02 meltdown of the Argentine economy. His running mate is the current governor of the northern province of Salta, Utubey, a young Peronist leader who has greater ambitions and is making his first moves at federal level.
The other six tickets respond to a wide arch of groupings with political or special interests, but with little chances of even overcoming the August PASO primaries.
What is interesting to note is that the three main tickets, probably with the exception of Macri, all have Peronist backgrounds, which remains the leading hegemonic force in Argentina, and currently holds the majority in Congress, rules many of the 24 provinces, as well as municipalities and controls most of the trade unions.
Likewise it also confirms the deep divisions inside Peronism or different outlooks and certainly the lack of a unifying leader. Although Cristina Fernandez has a solid 22/24% of the vote, she is also detested by other Peronist groupings who consider her authoritarian, and want to take distance from her two presidencies, which left Argentina in the verge of another major collapse of the economy, as President Macri, despite his optimism, could not manage and had to appeal to the IMF for a major stand by rescue loan, including tough austerity measures.
Macri who changed his previous "Let's change" banner for "Together for Change" has also had to show generosity with its coalition partners, in the legislative slates, and although behind her rival Cristina Fernandez in the opinion polls, and an economy in recession, is forecasted to have a good chance of repeating his mandate in the most probable November run-off.