"Now I only have to recover Malvinas" says Argentine foreign minister after the milestone Mercosur/EU accord
Saturday, June 29th 2019 - 09:56 UTC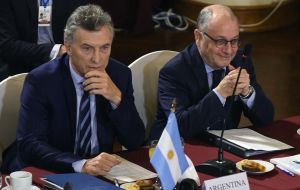 "Now I only have to recover the Malvinas Islands" said Argentine foreign minister Jorge Faurie, following the trade and association agreement reached on Friday in Brussels between Mercosur and the European Union.
Faurie was in permanent contact with president Macri, in Japan, during the discussions in Brussels which ended twenty years of ongoing negotiations, on and off, and are considered a milestone for Argentina's integration to the world and for the forty years of diplomacy of the foreign minister.
Only a few months ago his days were considered to be coming to an end and even a possible successor was being named in the Buenos Aires media, but at last minute, Macri gave him another chance, and now with the Mercosur/EU accord he has become the hero of the Argentine cabinet, and thus no wonder his reflection, about the recovery of the Falklands as his great other task.
Faurie said that Macri was decisive for the negotiations, "he was our deadly bazooka", whenever problems emerged, for example with the German auto industry, the president would speak to Chancellor Merkel; when differences with EU farmers Macri would address directly president Macron, the same with Brazilian presidents Temer and Bolsonaro...and he kept doing this while in Japan.
"Macri's leadership and direct contacts were decisive, despite the global trade disputes, despite protectionism and despite the questioning of a multilateral foreign policy" explained Faurie,
In the final stage of negotiations, there were two groups in the EU, one led by Spain's president Pedro Sanchez, who wanted to go ahead, and a second with France and Macron who preferred to freeze sine die discussions, but Macri has the personal WhatsApp of the two and sent them messages, according to Faurie.
"He gets personally involved and manages results", indicated Faurie. And when it was finally agreed with the EU, "I called the president, and asked they awake him. At first they refused but I insisted and they knocked on the door and had him on the phone, it was really emotional...after so many years", a trade agreement with the European Union had been reached.