Lousiana takes Hurricane Barry threat seriously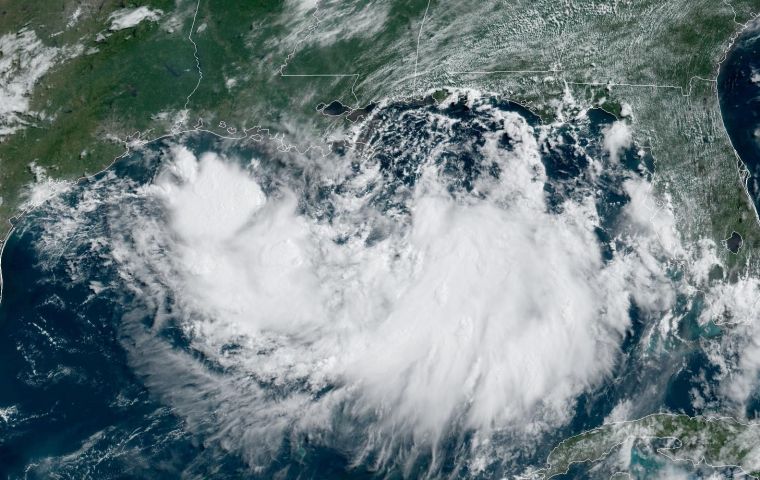 Government officials are preparing for a heavy tropical storm or worse in New Orleans by Friday, as floods and heavy rains have battered the region for the past few hours, according to the United States' National Weather Service, which has warned that hurricane conditions were possible along the Gulf Coast as a "potential tropical cyclone" moved closer to land.
The storm is likely to span through Saturday, becoming a tropical depression by Thursday morning, then a tropical storm by Thursday night and then Hurricane Barry on Friday.
Louisiana Governor John Bel Edwards Wednesday declared a state of emergency and instructed residents and tourists alike to seek cover or move to higher ground.
A bulletin released early Thursday indicated the storm was expected to become a tropical depression or tropical storm later in the day and could become a hurricane by late Friday,
The storm system was forecast to approach the Louisiana coast this weekend. Storm surge watches covered other parts of the Louisiana coast, including New Orleans. The slow movement of the weather system is expected to result "in a long duration heavy rainfall threat" along the central Gulf Coast and the Lower Mississippi Valley into as late as early next week.
In New Orleans, nearly 10 inches of rain had fallen on some neighborhoods by noon Wednesday. Meteorologists have said the Mississippi River could rise to 19 feet by the weekend, just a foot short of the height of the city's aging levees.
"Right now, we believe that any overtopping of the levees will be a relatively short duration of about 12 hours, but that is still a very, very significant hazard," Governor Edwards said.
He added that "no one should take this storm lightly, as we know all too well in Louisiana, the low intensity does not necessarily mean low impact."
The National Weather Service said the system's slow movement would result in a "long duration heavy rainfall threat" along the central Gulf Coast inland through the lower Mississippi Valley through the weekend and possibly even into early next week. It warned that a dangerous storm surge, combined with the tide, would cause usually dry areas near the coast to flood.
Ricky Boyett, a spokesman for the Army Corps of Engineers, said the corps was confident that the levees, which can protect up to 25 feet in some spots and 20 feet at the lowest spots, would protect the Gulf Coast from major flooding. "If you're at 20 feet on the levee, you're going to get a little splash," Boyett told a local broadcaster. "You're going to get a little overtopping, and that usually dissipates. ... However, if you get natural flow over the levee, you will get flooding in the interior of this system."
It was also reported authorities from Alabama to Texas were keeping wary eyes on the forecast.
"Severe weather is severe weather, and the potential is there, so you need to be prepared and be ready," said Mike Evans, deputy director of emergency services in Mobile County, Alabama.
In addition to human losses which amounted to 15 deaths, the floods and storms that have occurred in the United States this year have cost the country more than 1 billion dollars, according to the National Oceanic and Atmospheric Office (NOAA).
"Since the beginning of 2019 [for July 9] in the US there have been six climate catastrophes that led to losses of more than 1,000 million dollars," NOAA said in a statement.
According to NOAA, the average annual rate of natural disaster risk in the US between 1980 and 2018 was 6.3 incidents, while the average annual rate between 2014-2018 is 12.6.