Controversial Bolsonaro's guns-for-all stance not welcome by most Brazilians
Saturday, July 13th 2019 - 22:06 UTC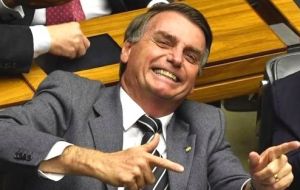 Brazilian President Jair Bolsonaro's proposal to change the current legislation in order to ease down gun possession regulations is not favoured by most citizens, a survey published on Friday by pollster Datafolha Institute showed Friday. The controverial president drew further criticism on him this week when he announced his plan to appoint his son as ambassador to the United States.
Datafolha has come to the conclusion that 70 percent Brazilians reject the attempt to simplify the purchase of firearms, while 28 percent agree with the proposed changes.
Since Bolsonaro took office in January, he has first tried to change the regulations through a decree which contained parts that were deemed illegal, besides th inability of a presidential decree to replace Congress-approved legislation, after which Bolsonaro himself agreeed to send the bill for parliamentary treatment. The bill is yet to be voted on.
The Datafolha Institute interviewed 2,086 people from 130 cities nationwide early this month. The margin of error is two percentage points.
Bolsonaro is also under heavy criticism for his plan to name his son, federal representative Eduardo Bolsonaro, to head the Brazilian embassy in Washington.
"I think he could be an adequate appointment and could perfectly handle things in Washington," the president said. "We considered this possibility last year and analyzed the pros and cons."
The appointment would need to be approved by the Senate Foreign Relations Committee before being passed to the full upper house for confirmation.
Eduardo Bolsonaro said he would be willing to leave the Congress to take the position of ambassador to the United States.
Though he currently serves as the head of the House of Representatives' Foreign Relations Committee, he has never taken an actual diplomatic job before.
The position of Brazilian ambassador to the United States has been vacant since April, when Bolsonaro ordered the previous ambassador back to Brazil to serve at the foreign ministry.