Argentina condemns British MEP's likening foreign fishing to Belgrano sinking
Sunday, July 14th 2019 - 15:04 UTC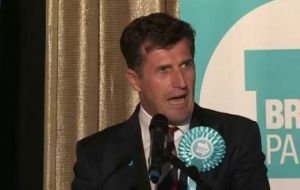 Argentina harshly condemned the "lamentable declarations of British MEP Robert Rowland" in which he threatened foreign fishing in the Falklands area with "the same treatment as the Belgrano," in reference to the Argentine cruise sunk by the United Kingdom during the 1982 war.
The Argentine Foreign Ministry pointed out in a one-paragraph sratement that Rowland's words, published through social media this week, "dishonour the memory of the 323 victims who perished in the sinking of the ARA General Belgrano Cruise in 1982, offend their family and show a marked disregard for human life."
The noticeably unexperienced Rowland had said: "We are behind all our fisherman and the restoration of sovereignty over our waters. 200 miles of exclusion zone with any foreign fishing vessel given the same treatment as the Belgrano! Well done June. We are 110% behind you and will ensure you give 'em hell on committee."
On Friday, the British newspaper The Guardian reported on the controversy unleashed by Rowland's words.
Rowland is a hedge funds administrator who was elected into the European Parliament in May on behalf of Nigel Farage's newly created Brexit Party and has been serving for less than a month (July 2).
The MEP tweeted his controversial words upon celebrating fellow MEP June Mummery's joining the European Parliament's fishing committee.
The BP, which was founded in November last year, won May's European Parliament elections in the United Kingdom and has 29 deputies on the EP but still none in the House of Commons.