Argentina: The Minister of Defense will retire two senior officers for the ARA San Juan tragedy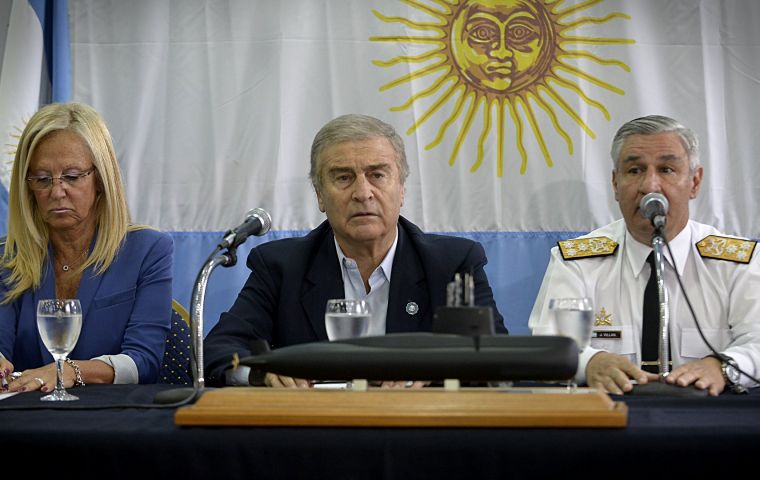 Argentina's defence minister, Oscar Aguad, will publish on Monday a summary prepared by the Mayor state of that country, Infobae reported, establishing the military responsibilities of the Navy in the sinking of the submarine ARA San Juan, found at the bottom of the Atlantic Ocean on November 2018, one year after its vanishing.
Aguad would retire the last two officers in activity that made up the chain of command when the tragedy at sea ended with the death of the 44 crew members of the submarine. The responsibilities assigned to the chain of naval commands with functions in the operation of the ARA San Juan would fall within the so-called serious disciplinary offences.
Likewise, the hierarch also seeks to make public the conclusions of the board of expert divers who worked to demonstrate that the chain of events that led to the tragedy starts in the half-life repair of the ship, seeking to clearly delimit those who, by action or omission, contributed from the official point of view to the tragic outcome.
The ship is located on the seabed at 907 meters depth, 500km from the continental shore and Comodoro Rivadavia.
At that time, a file had seventy testimonial statements, 60 thousand sheets of documentation and several raids, such as those made in the naval bases of Mar del Plata and Puerto Belgrano.
Political cost
The opposition legislators in the Bicameral Commission ARA San Juan refuse to take into consideration this military summary prepared by the Joint Chiefs of Staff. For the representatives of Kirchnerism in the bicameral commission ARA San Juan, the final report would imply a strong political cost for President Mauricio Macri and his minister Aguad in an electoral campaign.
The opposition currently aligned in the "Frente de Todos" (Front of All), and that has the majority, tries to take advantage of the pre-election moment to charge the inks on the current conduction of the defence, and collaterally with Macri, regardless of possible responsibilities of previous management.
However, from the ruling party, it is considered as nonsense that the bicameral body issues a conclusion before the General Staff since the report prepared by the highest military authority would be a document with precise results in terms of assigning responsibilities.