Macri praises Mercosur-EU deal for positive impact on quality of life to come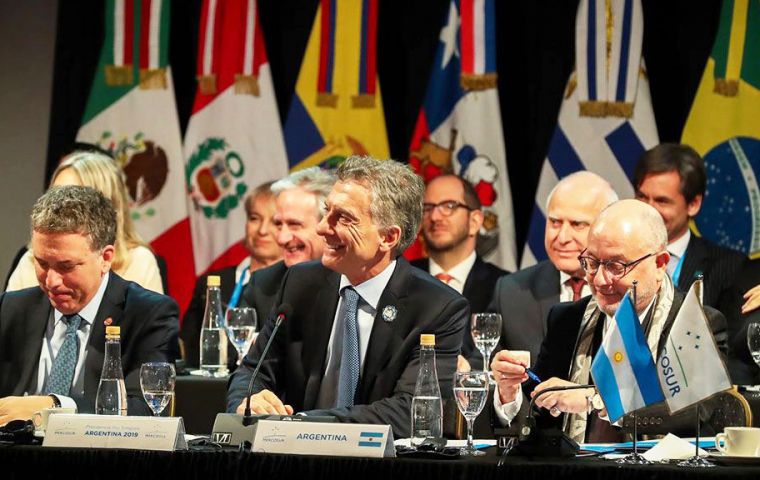 Argentine President Mauricio Macri said Wednesday in Santa Fe that Mercosur's trade agreement with the European Union (EU) "will have a positive impact on the quality of life of the people" and called for "the convergence" with the Pacific Alliance.
During the South American four-nation bloc's 54th Summit 460 kilometres northwest of Buenos Aires, Macri also launched an appeal for Venezuela to cease all violations of human rights.
"The agreement with the EU is the result of collective work, in which we demonstrate vocation and commitment at the highest level. We should feel proud of having pursued this goal with tenacity," he said.
Macri also insisted that the EU accord "is not a point of arrival but a point of departure."
"It is an opportunity for Mercosur to go for more, in an ambitious foreign agenda of negotiations," he added.
Regarding the Pacific Alliance, Macri spoke of "building a productive region with coasts on two oceans and being one of the most dynamic growth poles in the world."
The Argentine president also addressed the Venezuelan situation and expressed his "solidarity with the Venezuelan people, who suffer a humanitarian crisis without precedent in the region."
He made it clear that "we recognise the National Assembly and the president in charge, Juan Guaidó, as the only legitimate authority of Venezuela." Ge also asked Nicolás Maduro, "to stop obstructing the democratic transition and stop violations of the human rights of Venezuelans."
During Wednesday's meeting, the president of Brazil, Jair Bolsonaro, took over the bloc's pro-tempore heading from the Argentine host amid football jokes about the recent Copa America.
Bolsonaro, on the other hand, remarked that the agreement between the European Union and Mercosur could be achieved in order to reach an understanding each bloc should "give a little [something]."
"When I took office as president of Argentina three and a half years ago, I reached out so that we could consolidate Mercosur together. Today I am convinced that it is a strategic space to strengthen the economic relations of our peoples and the world," Macri said.