Argentines are "very easy" to relate to, says Ambassador Kent in BA
Thursday, August 1st 2019 - 09:59 UTC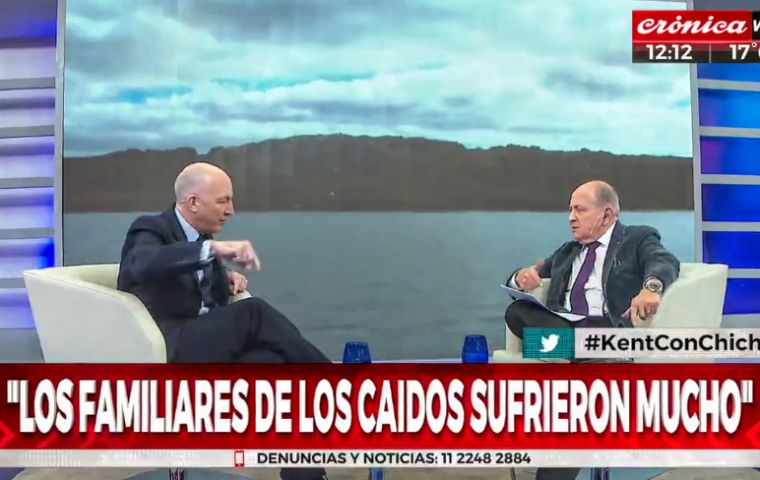 Britain's ambassador to Buenos Aires Mark Kent Wednesday said in a live TV interview that Argentines are "very easy" to relate to and highlighted their sense of humour, which he found very similar to that of the people back in his home land.
The UK diplomat appeared on Cronica HD TV before host Samuel Chiche Gelblung to discuss bith thexrelationship between the two countries and his own with the local population in a Spanish so fluent it was highlighted by the news outlet's website.
"When I arrived here they warned me to be very careful with what I thought on social media, but the truth was that I was welcomed in a phenomenal way," he said.
He added that "Argentines are similar to the British, I believe, in their acidic and sarcastic [sense of] humour."
Kent admitted to being a big football fan. "I went to the Obelisk to celebrate Arsenal's triumph," he explained. "I was also at the Boca [Juniors] field and I met [Antonio] Rattín. I need to have an encounter with Maradona," he went on.
Rattin was captain of Argentina's national team during the 1966 World Cup finals in England. He was unfairly sent off in the clash against the home squad, who eventually won that game on their way to the title. Maradona's "hand of God" goal in 1986 is said to have evened up the tally as Argentina also lifted the trophy that year.
Asked about the Falklands War, Kent explained: "I cannot ignore that in 1982 we had a conflict. But we can work on our differences all the same. The road is the human approach now. We must have more empathy with others. The relatives of the fallen have suffered too much."
Kent also envisioned a post-Brexit UK where "we will continue to have links with the countries by our geographical location. It is not something black or white, now it's gray."
About his relationship with the Argentine people, Kent insisted "it is very easy to relate to them, they will always give their opinion about anything, so I know how they will react."
He added that "many invite me over to barbecue parties without knowing me and I attend," and admitted to eating "a lot of meat."
When asked about diplomatic relations between Argentina and the UK under President Mauricio Macri, Kent was quick to point out "we have built a better communication."
(Source: Crónica)