Argentina's production of oil and gas goes up although Santa Cruz and Mendoza's go down
Friday, August 2nd 2019 - 18:52 UTC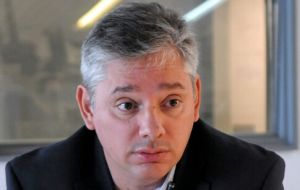 The output of oil and gas in the Argentine province of Mendoza hit its lowest mark in ten years, contrary to what goes on in the rest of the country, local authorities have announced. The lack of calls for bids during previous administrations has been singled out as the cause of the poor results.
Official statistics show that during the first half of the year the province's crude production fell 6.7% and reached its lowest level in the last decade. At a national level, on the other hand, there is a 3.7% rebound compared to last year, thanks to achievements mainly in Neuquén and Chubut.
The government of Mendoza believes these figures are a direct consequence of ten years without calls for tender of oil areas (between 2008 and 2018). Such a stagnation, they say, caused a sharp fall in investments in exploration that now translates into low production levels.
According to the federal Energy Ministry, Mendoza produced between January and June of this year 1,998,533 cubic metres of crude oil, which meant a 6.7% retraction compared to the same period of 2018. And that information points to a low level of extraction over the past decade.
In the rest of Argentina, the first semester of 2019 yielded 14,468,092 cubic metres of crude oil, a 3.7% increase compared to the first half of 2018. The improvement is mainly due to the growth achieved in that period by Neuquén (23%) and Chubut (3%).
On the other hand, Santa Cruz, another oil rich province but still run by the family of former President Néstor Kirchner's, production fell 3%. Current governor of Santa Cruz is Néstor's sister Alicia.
Mendoza's Energy Secretary Emilio Guiñazú explained that "the last wave of investments was in 2008."
"No new areas were tendered and the fall in production was inevitable," he added.
Not until 2018 did calls for tender resume. In the first call, eight areas were tendered, of which six were new and two had been "reversed," due to the lack of activity on behalf of the company.
Guiñazú also explained that Mendoza has always been a producer of conventional crude, but large deposits are declining their output by 10% annually. For this reason, the Government aims to promote the exploration and exploitation of unconventional crude, which in a medium term plan that, according to Guiñazú, "will reverse the negative trend of production and will allow the recovery of a normal production volume."
The official also pointed out that the current administration has already tendered unconventional oil areas, but warned it will take a while until the results begin to show. "Companies have five years to define whether they go from investing in exploration to investing in exploitation. Because today, although much progress is being made to favour the development of the sector, statistics continue to decline along with the decline in conventional wells," he said.
Guiñazú was optimistic about the future due to some progress already being reported, such as YPF's unconventional extraction of heavy crude in the area of ​​Llancanelo with a 103 million dollar investment after the Government of Mendoza granted a 50% reduction in royalties.
Mendoza Governor Alfredo Cornejo had explained during a visit to Llancanelo that "we are looking for more and more wells, more employment and more local producers and, in the long run, to generate tax benefits and greater movement of the economy." On that occasion he had also underlined that "the mistakes of the past were to grant concessions to people who were not suitable for the oil business, in addition to a traumatic relationship with YPF. These are errors that have been rectified under the current management."
Although concrete actions are already under way in the transition from conventional to "unconventional" crude, it is a reality that Mendoza is also very behind in the exploration of Vaca Muerta.
At the moment there are 15 wells exploring the geological formation, all belonging to the El Trébol company. In addition, YPF announced that before the end of the year it will begin carrying out exploration tasks a few kilometres from the Colorado River. Beyond that, there are no advances that can be highlighted.
"For seven years we saw how YPF invested in Neuquén to obtain geological information of Vaca Muerta, which today allows them to have an active production in that province. In Mendoza we saw it happen and today we are very far from what is being done in the neighboring province," said Guiñazú. "Now we have to generate the geological information and then receive large investments. It is a process that will take years," he added.
And regarding gas, data from the federal Ministry of Energy show Mendoza is also falling behind. In the first semester of 2019 only 719 million cubic metres of gas were obtained, against 881.1 million in the previous year, which represents a 18% shrinkage.