Bolsonaro's haircut a coarse gesture from Brazil to France's FM
Saturday, August 3rd 2019 - 18:07 UTC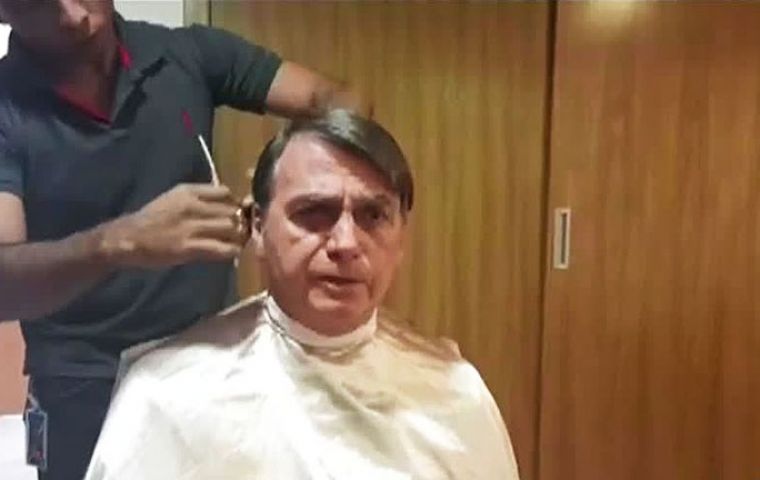 Brazil's authorities maintained Friday President Jair Bolsonaro's haircut was not the reason for leaving France's Foreign Minister Jean-Yves Le Drian in the lurch and argued it was all a matter of agenda.
But shortly after cancelling his engagement with the European diplomat, Bolsonaro broadcast his haircut session live on social media for his followers to watch and -analysts agree- for French President Emmanuel Macron to read between the lines.
Le Drian had earlier met with his Brazilian counterpart Ernesto Araújo and "because of that meeting at the same level, the president declared and decided on the basis of other agendas to decline to receive the minister here. It has nothing to do with the haircut. Absolutely not," spokesman Otávio do Rêgo Barros told reporters.
France's chief diplomat visited Brazil, among other things, to advance the ratification of the free trade agreement between Mercosur and the European Union.
Bolsonaro is a notorious skeptic of climate change and has recently questioned official figures showing an increase in deforestation. He and Macron do not hide their differences, particularly regarding environmental issues.
Latin America scholar Christophe Ventura from the French Institute for International and Strategic Affairs (IRIS) views Bolsonaro's decision to call off the meeting as, to some extent, a kind of revenge for past pro-environmental galas.
"It was a staging with the objective to send a very clear political message: to express Jair Bolsonaro's dissatisfaction," explained Ventura.
The agreement between the European Union and Mercosur and then, in broader terms, the environmental issue lie behind what happened.
According to the specialist, Bolsonaro viewed Le Drian's presence in South America as "a pressure from France" to promote the Paris Agreement and remind the region of the commitments assumed by the signatories of the document, among which is Brazil.
The French diplomat warning that there were "red lines" that should not be crossed in reference to the Paris Agreement and the standards set thereby seemed to corroborate Ventura's assessment.
The Paris Agreement is an accord within the United Nations Framework Convention on Climate Change (UNFCCC), dealing with greenhouse-gas-emissions mitigation, adaptation, and finance, signed in 2016, to keep the increase in global average temperature to well below 2 °C above pre-industrial levels; and to limit the increase to 1.5 °C, since this would substantially reduce the risks and effects of climate change.
The environmental policy carried out by Bolsonaro could threaten the entry into force of the agreement between the European Union (EU) and the Southern Common Market (Mercosur). Macron repeatedly said he would not agree with countries that did not commit to the Paris agreement against global warming.
Other possible reasons for having cancelled the meeting with Le Drian are the latter's desire to meet with Vicepresident Hamilton Mourao, with whom Bolsonaro has a complex relationship, or a payback for an encounter in May between Macron and Brazilian indigenous leader Raoni Metuktire, Ventura explained.
Bolsonaro himself insisted Saturday it was a media campaign against him: "After criticising me for cutting my hair during office hours, [newspaper] Folha criticises me again for greeting businessmen with 'bad words' Meyer Nigri, Flávio Rocha and Luciano Hang. WATCH:" And he attached a video where he can be seen shaking hands and hugging a group of people in suits, presumably the aforementioned businessmen. (https://twitter.com/jairbolsonaro/status/1157116322284736512?s=19)