A Monday of financial turmoil in Argentina as markets digested Sunday's primary results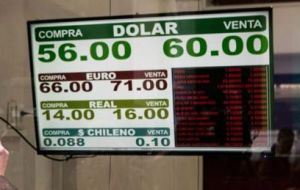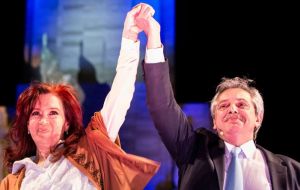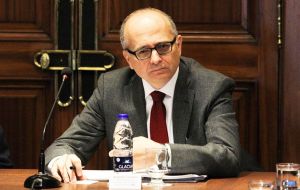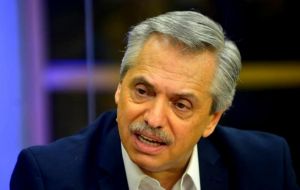 Argentina's currency collapsed 30.3% to a record 65 Pesos to the US dollar while government bonds sold off steeply on Monday after the country's market-friendly, President Mauricio Macri, performed worse than expected in Sunday primary elections.
The new political scenario means Macri reelection chances in October, and market expectations of economic reforms, are in serious doubt. Trading of the US dollar opened in Buenos Aires markets at 59 Pesos to the dollar, but rapidly climbed to 65 Pesos and closed at 58 Pesos. The central bank intervened in the market selling 100 million dollars of its reserves. The peso had been at 45.25 at its previous close on Friday.
The election result had earlier prompted Argentina's Euro-denominated bond to fall almost 9% lower, and the main Argentine stock market moved lower by 11% shortly after trading opened.
The opposition ticket of center-left Alberto Fernandez, whose running mate is populist ex-leader Cristina Fernandez de Kirchner, secured on Sunday 47.7% of the vote, with roughly 99% of the ballots counted. Meanwhile, Macri and his running mate, Miguel Angel Pichetto, received 32.1% of the vote.
The result of the primaries, seen by many as a key gauge for the first round of Argentina's presidential elections on Oct. 27, is thought to be a clear signal that the country is ready to reject the ruling government's austere economic policies, which have been supported by a record stand/by loan of US$ 57 billion.
IMF had repeatedly praised Macri's austerity policies, and suggested voting on Sunday for the incumbent. An IMF delegation is flying to Argentina supposedly to meet government officials and representatives of the winning opposition "Frente de Todos", (Everybody's Front).
Sunday's results and some fifteen percentage points difference, which even surprised the opposition and wasn't anticipated by any public opinion poll, prompted analysts on late Sunday to warn of widespread panic in financial markets.
Given the country's monetary and financial record, Argentine stocks, bonds and the country's super sensitive Peso were headed for days of turmoil. A particular shock since last Friday, given the forecasts of the main pollsters anticipating a close run of Sunday, had seen shares and bonds rise strongly.
The presidential primaries were viewed by many as a referendum on Macri's painful economic reforms. The business-friendly president had promised to continue with the same austerity-driven approach if reelected later this year.
He had hoped recent glimmers of an economic revival would be enough for voters in South America's second-largest country to stick with his free markets reform agenda despite a recession, 55% inflation, high unemployment and 33% poverty.
In contrast, Alberto Fernandez — who was expected to come out on top in the symbolic primaries but by a much smaller margin — said the country could look forward to creating a "new history." However the scale of Fernandez's win had put the center-left candidate on track to secure a congressional majority in presidential elections later this year.
In such a scenario, Fernandez would be able to undo economic reforms put into place by Macri's administration, and the International Monetary Fund's bailout package.
Asked on Monday about the run on the US dollar, Alberto Fernandez said this happens when the government "is not honest about the real situation of the economy". He also denied having contacts with the Macri administration.
However in his victory speech on Sunday, Fernandez also said that Cristina Kirchner and him were not looking back to "restoring" the past, but rather to a new Argentina where Argentines could again be happy, with jobs and money in their pockets.
But strangely enough, during the campaign Fernandez said the Argentine Peso was overvalued and its true price was closer to 57/60 Pesos, which is the current quote in the foreign exchange market.
In what was interpreted as a message to investors, Fernandez said that those who feel anxious, can rest calm, "we've never done crazy things in government, rather the contrary, we have had to clear the mess left by others, and that is what we are going to do".
But despite the nice works and intentions, Alberto Fernandez is trapped in the web of her vice president and ex president Cristina Kirchner, who has a solid electoral base, but also a large middle class rejection, which she wisely managed to appease with the nomination of her former chief of staff, a moderate, compared to the radicals and the low income followers that benefitted by her subsidies policy during her two consecutive mandates in Casa Rosada.
Nevertheless, Alberto Fernandez a former prosecutor helped his then boss in 2003, president Nestor Kirchner, get rid of his protector, Eduardo Duhalde, a heavy weight in Argentine politics.
Duhalde then the boss of the crucial province of Buenos Aires with 37% of the electoral roll, somehow managed to lead Argentina out of the chaos when the 2002/03 default and melting of the economy which contracted over 25%, picked the Kirchners to lead the country.
In the following 24 months Nestor Kirchner became his own man, dumping Duhalde with the help of Alberto.
Will Alberto be able to do something similar with his mentor, the Lady, or will he fall a prisoner of Cristina and her populist inclinations.