Bolsonaro warns of Argentine exodus into Brazil if the "leftist scoundrel" Cristina Fernandez returns to office
Tuesday, August 13th 2019 - 06:38 UTC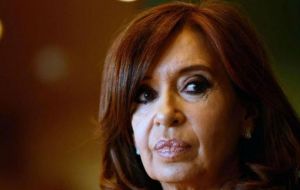 Conservative president Jair Bolsonaro warned on Monday that Brazil could see a wave of migrants fleeing Argentina if a presidential election in that country returns leftist politicians to power, after their strong showing in a Sunday primary vote.
Bolsonaro has cast himself as foe to the left-wing leaders around Latin America and celebrated his friendship with Argentine President Mauricio Macri, who faces long odds of winning another term in October.
The Brazilian president singled out as a "leftist scoundrel" Argentina's former president Cristina Fernandez de Kirchner, the vice-presidential candidate on the ticket confirmed as front-runner on Sunday. He compared her to ideological allies from Cuban President Fidel Castro to Venezuelan President Nicolas Maduro, and the former Brazilian president Dilma Rousseff removed from office.
Cristina Kirchner who was president from 2007-2015 after succeeding her husband, has been tainted by corruption scandals but remains popular.
Speaking in Porto Alegre, Bolsonaro said her return to power could put Argentina "on the same path as Venezuela," where a deepening political and economic crisis has forced millions to flee.
"If the leftists return to Argentina, we could have a new Roraima," Bolsonaro said, referring to Brazil's northern state where thousands of Venezuelans have crossed into the country.
Speaking in southern Brazil, Bolsonaro warned, "we don't want that: Argentine brothers fleeing over here, seeing how awful it could get if the result of the vote yesterday is confirmed in October," he said.
Argentina's peso currency collapsed on Monday and inflation was expected to rise as voters flirted with a return to interventionist economics by snubbing market-friendly Macri for the opposition in a primary vote on Sunday.
Bolsonaro's government has not been shy about weighing in on domestic politics around the region, antagonizing Venezuela's Maduro and touting a close friendship with Paraguayan President Mario Abdo when he faced the threat of impeachment.