Amazon fires: Thousands of people protested in front of Brazilian embassies; Montevideo was not an exception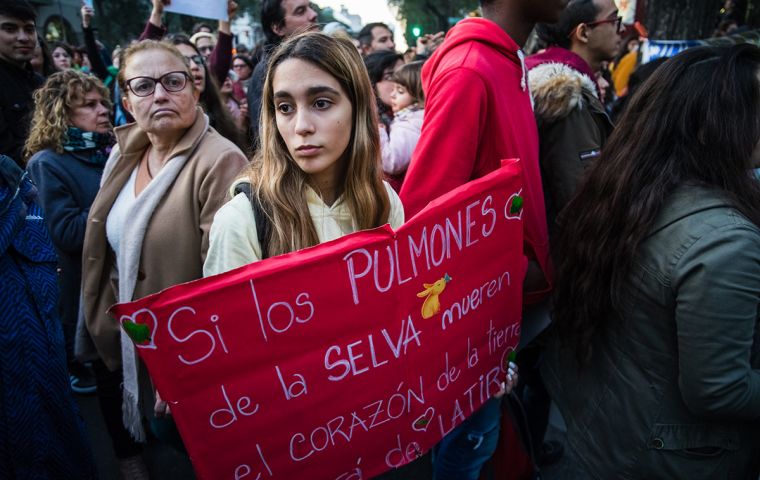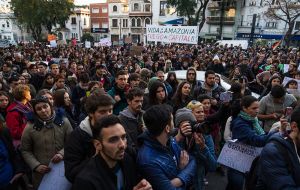 Thousands of people gathered on Friday in front of Brazilian embassies in different cities around the world and Montevideo was no exception. Several hundred protesters, mostly young people, cut off busy Bulevar Artigas Avenue at the embassy of the Amazonian country, whose government is widely criticized for its environmental policies by countless NGOs around the world.
Fridays For Future and Climate Save were the organizers of the demonstration in the Uruguayan capital under proclamations read at the beginning and the end of the event. Climate Save opened the mobilization with a proclamation that expressed that the Amazon "is burning at this time, the damage is irreparable, the losses are unimaginable, the consequences will be decisive." The organization claimed, "to take environmental measures to definitely stop this debacle."
For its part, the Fridays For Future organization, founded in 2018 by the 16-year-old Swedish activist, Greta Thunberg, released an international proclamation by mutual agreement between the different groups that spread throughout the world calling to become aware of the seriousness of the fires and the environmental consequences they will bring.
The concentration was aimed at informing about what is happening in the Amazon and demanding that this situation be addressed. They also requested that Uruguay send humanitarian aid urgently to put out the fires.
The participants demonstrated under the motto inspired by the proclamation of Thunberg: "state of emergency, the house is burning."
In the demonstration, not represented by any political party, as announced by their organizers previously via social networks, highlighted a banner that said "Life to the Amazon, death to capital." The rally ended after the organizations read their proclamations, among the shouts that expressed "the house is on fire", "Lula libre" and "get out, (Brazil President, Jair) Bolsonaro."
Fridays For Future convened the same demonstration in Spain, Italy, Argentina, in all cases in front of the Brazilian embassy. Organizers Lara Rivero and Manuela Servetto, explained daily that they did not expect so many people to appear.
Rivero also said that an important point in his request for action, in addition to humanitarian aid, is to declare the Amazon jungle as a world heritage site. "That way a particular country could not exploit it," she said.
"Since President Jair Bolsonaro came to power the fires have steadily increased, not only due to droughts but also due to the terrible environmental policies carried out by the Brazilian government, which sees the Amazon only as a source of money," The Thunberg organization said in a statement.