Climate activists protest outside Brazil embassy in London; PM Johnson described fires as "an international crisis"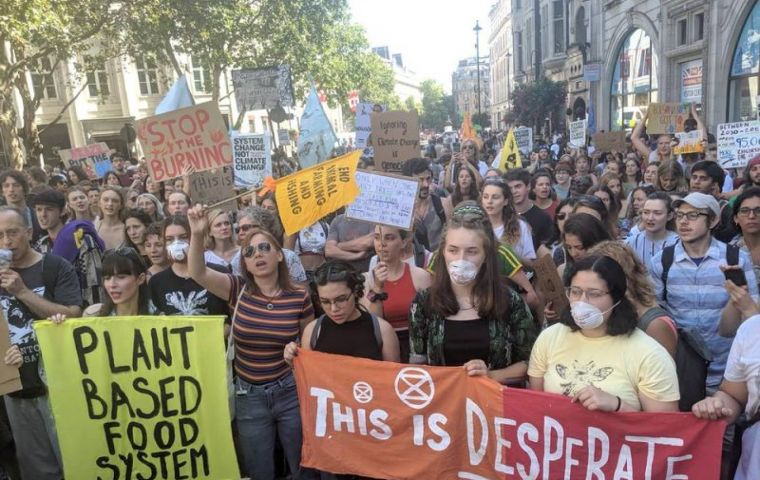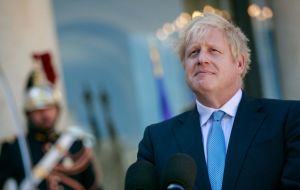 Climate change activists chanting slogans and waving banners demonstrated outside Brazil's embassy in London on Friday, urging President Jair Bolsonaro to do more to halt the fires in the Amazon rainforest.
The protests came as British Prime Minister Boris Johnson described the fires as an "international crisis" ahead of a G7 summit in France this weekend where the issue is expected to feature prominently.
"The fires ravaging the Amazon rainforest are not only heartbreaking, they are an international crisis," Johnson tweeted.
"We stand ready to provide whatever help we can to bring them under control and help protect one of Earth's greatest wonders," he added.
Several hundred people gathered opposite the central London embassy, unfurling signs reading "Stop Destruction Now", "Save Our Planet" and "I Want You To Panic".
The demonstrators chanted "climate justice" and "save the Amazon" as a drummer played and young children drew rainbows and other images on the pavement with colored chalk.
In Amsterdam several hundred protesters staged a so-called "die-in" lying down in a central square as part of the "Fridays for Future" environmental protest movement started by Swedish teenage activist Greta Thunberg.
Meanwhile in Dublin around 100 activists from the Extinction Rebellion pressure group occupied the lobby of the building housing the Brazilian embassy, chanting and holding up protest placards.
Protests over the fires were also planned for other European cities, including a Friday night vigil and demonstrations Saturday and Monday in Lisbon under the slogan "Rebel for the Amazon".
Brazilian embassies in Berlin and Madrid, the consulate in Barcelona, and in Turin, northern Italy, were also set to be targeted.
"We gather in outrage, in grief and in despair," Extinction Rebellion said in calling the London protest.
"The Amazon is literally on fire and every inch that continues to burn takes us further away from any hope of sustaining life on this Earth.
"We cannot sit in silence while life on Earth is being destroyed."
They called on governments to put pressure on Bolsonaro to act to help stop the fires.