Macri anticipates that Argentina's inflation will accelerate to 3% in August; country risk reaches 1.990 points
Wednesday, August 28th 2019 - 09:59 UTC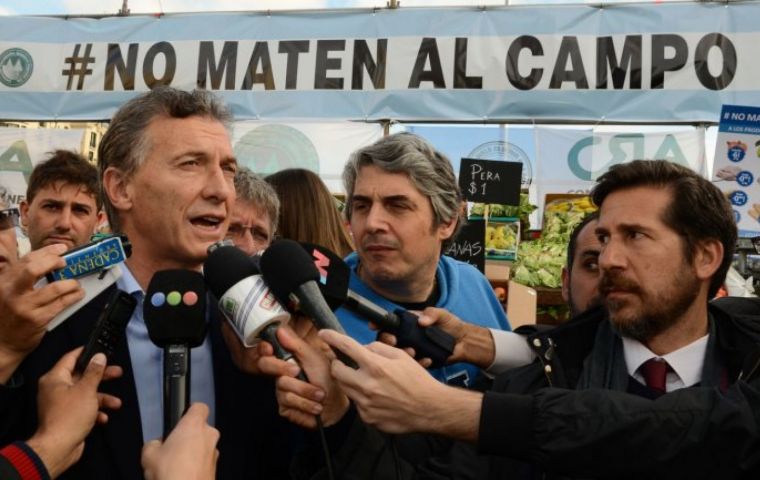 Argentine President Mauricio Macri said that monthly inflation would accelerate to 3% in August following a slump in the peso, as the central bank intervened heavily in the market on Tuesday to prop up the local currency.
The peso lost 18% of its value in a week after leftist opposition presidential candidate Alberto Fernandez netted a 15-point lead in an Aug. 11 primary election, as investors reassessed the prospects of business friendly Macri retaining power.
On Tuesday, Macri told an agricultural conference that inflation - which was running at a monthly rate of 2.2 percent in July - would tick up to slightly over 3 percent. "We were going to be at about 1.8% inflation. It's now going to be 3-something in August," Macri said.
Argentina's 12-month inflation is running at 54.4%, according to the national statistics agency. Inflation had been decelerating for the fourth consecutive month in July after reaching a peak of 4.7% in March.
By Tuesday afternoon, the peso had weakened 0.65% to 55.67 per dollar, traders said.
The local Merval stock index Merval fell by 3.4% on Tuesday.
Given the political uncertainty Argentina's country risk again ballooned and reached a new record in fourteen years.
The JP Morgan index jumped 9.6% on Tuesday to 1.990 points, the highest since June 2005. Sovereign bonds also plunged 14%, with prospects of further decline.