Bolsonaro undergoes surgery Sunday morning and will recover the rest of the week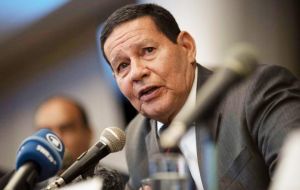 Brazilian president Jair Bolsonaro is in a hospital in Sao Paulo, ready for a fourth surgery scheduled for 07:00 Sunday morning. Bolsonaro arrived at the Vila Nova Star hospital accompanied by the First Lady Michelle and his son Carlos on Saturday evening but did not talk with the media.
This is the fourth surgery Bolsonaro will undergo as a consequence of the stabbing attack he suffered a year ago while on the campaign trail. This time according to the medical report, the Brazilian leader is suffering from an incisional hernia in his abdomen which needs to be corrected.
For this the protruding element will be reinserted and contained by a special polypropylene texture. The whole operation is expected to demand two full hours under general anesthesia.
"The president has undergone three surgeries, including the last one for an abdominal reconstruction, and the area is quite weakened because of so many invasive actions", Antonio Macedo the head doctor of the team watching over Bolsonaro.
The president spent several months with a colostomy, including when he took office, which was finally removed at the end of January.
"The surgery will correct a hernia which appeared in the weakest part of the surgeries to suture the stabbing, in his abdomen. It is a surgery described as simple to moderate level, but delicate. We do not expect any complications, but rest and recovery are essential for this kind of invasive practices", underlined Macedo.
Surgery had been scheduled quite some time ago and Dr. Macedo actually praised the health and physical condition of the president, as reported in hospital.
Bolsonaro was stabbed a year ago by a diagnosed delirious schizophrenic, considered non imputable by Brazilian Justice because of his mental problems. The president survived because of the quick medical attention and surgery he received, despite a serious internal hemorrhage.
He was submitted to an exploratory surgery which detected perforations to the small and large intestines. Since then Bolsonaro has had to return twice to the operating theatre, first to amend some complications from the original emergency surgery and secondly to have the colostomy removed.
During the five days in which surgery and recovery are expected to last, vice-president Hamilton Mourao will be running the Brazilian Executive.