Argentine gross public debt stands at US$ 337.367 million; 2020 repayments sum US$ 44.232 million
Tuesday, September 10th 2019 - 09:54 UTC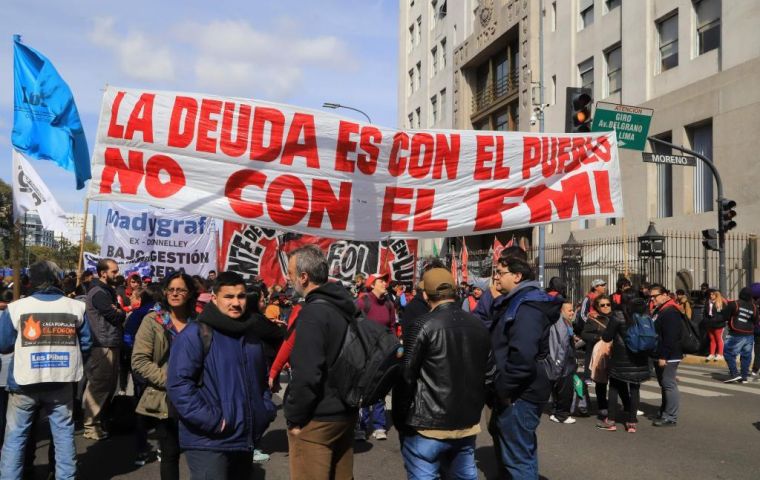 Argentine gross public debt climbed 3% at the end of the second quarter of the year and has reached US$ 337.367 million compared to US$ 327.166 million in the same period last year, according to the Financial Secretariat.
The information released in the web site of the Secretariat mark an increase of US$ 10,1 billion with a greater share from the International Monetary Fund and a slight drop in the Central bank participation.
Likewise the office headed by Santiago Bausilli published the chronogram of maturing papers and repayments for next year, according to the following list:
January, US$ 2.419 million; February, US$ 2.955 million; March, US$ 3.041 million; April, US$ 9,971 million; May, US$ 10.617 million; June, US$ 4.565 million; July US$ 1.661 million; August, US$ 208 million; September, US$ 531 million; October, US$ 3.581 million; November US$ 3.178 million and December, US$ 1.325 million.
This adds up to US$ 44.232 million to be repaid next year, short and medium term. The list does not include repayments to the IMF and its US$ 57 billion standby loan since they begin 2021.
In June 2018, the Argentine government signed the standby accord with the IMF, and the first outlay reached US$ 14.911 million, but it was later expanded, and now stands at US$ 38.94 billion with a next check expected sometime this month.
One of the conditions of the IMF loan was that the central bank ceased to finance the Treasury, which had to implement strict austerity measures to ensure tax revenue. Thus the so called transitory advances to the Treasury dropped from US$ 7 billion last year to only US$ 1.1bn last June.