FIDF examines 'future military capabilities' at London Show
Thursday, September 19th 2019 - 12:13 UTC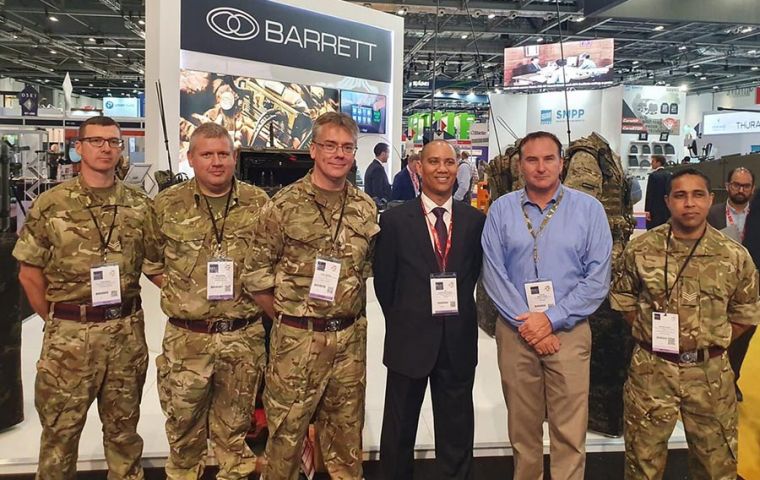 A detachment from the Falkland Islands Defence Force visited London last week to attend Defence and Security Equipment International 2019 show (DSEI2019) at the Excel centre.
DSEI is one of the largest Defence equipment shows in the world with over 1,600 exhibitors and 35,000 visitors attending.
Major Justin McPhee CO FIDF told Penguin News it was, "an excellent opportunity for the FIDF to gain a much better understanding of current and future military capabilities and equipment as we work to modernise the FIDF.
We also took the opportunity to promote the Defence Force and the Falklands to a wide audience which was extremely well received."
While in London the FIDF also met with Falkland Islands Representative in London Sukey Cameron and the team at Falkland House and were able to update them on recent developments in the FIDF.
While at the show the FIDF arranged to meet the Commanding Officer and members of the Royal Bermuda Regiment (RBR) and officials from the Bermuda Government. Major McPhee said: "We have been working with the Royal Bermuda Regiment to build links between the four British Overseas Territories with Defence forces.
It was great to meet the Commanding officer and we were able to discuss a range of topics including recruitment, training and equipment and the common interests we share. We will be working to strengthen these links in the future." (Penguin News)