Bolsonaro: Petrobras behind fuel price increase, not government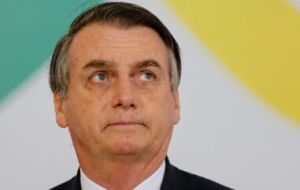 Brazil's President Jair Bolsonaro Thursday explained that his government had nothing to do with the rise in the price of gasoline and diesel fuel, which followed the raid on Saudi Arabian facilities over the weekend.
The price of oil rose 20% with the attack, and Petrobras tried to hold back, but finally yielded to pressure and raised the price at pumps by 3% on average in diesel and gasoline.
"There was no interference from us; the decision was made by Petrobras," Bolsonaro said. Yet, the price in Brazilian refineries is now lower than in July last year.
According to Bolsonaro, there were gas stations in Brasiília which increased the price by 5% even before the announcement of Petrobras. "But I am in contact with the Ministry of Mines and Energy, and he will contact the National Petroleum Agency to see what is going on, if there is a cartel," the president said.
"This can't keep happening, it's an abuse. We will go for them, do everything in accordance with the law to defend the consumer," he added.
Bolsonaro also mentioned the Central Bank's reduction of the Selic interest rate on Wednesday evening to 5.5%. "The rate has never been so low. Every 1% less in the Selic Rate equals about $ 40 billion, $ 50 billion less the following year. And why does the Selic Rate fall? Because Brazil is restoring its confidence. Brazil is doing its homework," Bolsonaro boasted.