Brazil fears Chinese invasion, says website
Saturday, September 21st 2019 - 13:30 UTC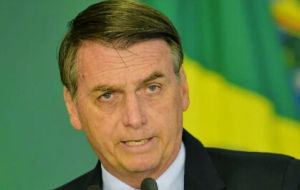 Top secret documents drafted by Brazilian military, backed by President Jair Bolsonaro, indicate that the Amazon is under threat of Chinese penetration, according to a report published Friday by the site The Intercept, accessed by the Italian news agency ANSA.
The news article in the publication directed by American journalist Glenn Greenwald explains that Brazil has to guarantee "sovereignty" on the border with Suriname, a country where there is a growing presence of Chinese immigrants.
Brazil also needs to repel the actions of the Catholic Church and the environmentalists, the dossiers included in the Rio Branco project revealed.
The Intercept elaborates, based on the sayings of a Brazilian general whose audio the site had access to, how China began encircling "strategic" areas such as Siberia, Nepal or Suriname by sending large contingents of immigrants, a general said during a reserved meeting whose audio The Intercept had access to.

"On the western border of Siberia there are more Chinese than Cossacks, Russia is becoming aware of that national security problem, we have to wake up before the problem occurs here," the general reportedly said.
Since February, Brazilian Army officers and representatives of the government have met with businessmen and politicians to present the Rio Branco project of occupation of the Amazon, which includes the construction of a hydroelectric plant and the prolongation of the transamazon highway, the report goes on.
For President Bolsonaro, the original peoples are "an obstacle to the presence of the State, which is why he proposes a 'new hope for the country' that leaves indigenism and environmentalism behind," wrote the site.
The lengthy report deals with Bolsonaro's plan to populate the Amazon facing the Chinese, NGOs and the Catholic Church, ANSA points out.
(Source: ANSA)