Uruguayan President Vázquez successfully completes first round of radiotherapy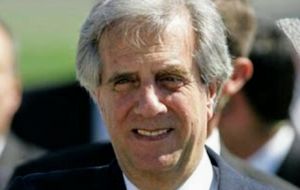 Doctors treating Uruguayan President Tabaré Vázquez of lung cancer Friday announced the 79-year-old head of state and an oncologist himself has completed the first round of radiotherapy treatment "with excellent tolerance."
Vázquez underwent radiosurgery treatment, a type of external radiotherapy in which a dose of radiation is sent to the specific place where the malignant tumor is located, unlike conventional radiotherapy, which is over a wider area.
The advantages of such an accurate treatment is that its adverse effects - which include fatigue and swelling - are minor.
The president's personal physician Doctor Mario Zelarayán explained that Vázquez successfully completed this stage and is having a good evolution, so he will not need to rest and cancel his duties.
From now on, a two month impasse opens after which some studies will be carried out and it will be decided how the treatment continues.

A presidential press release dated Sept. 20 states that:
"The President of the Republic, Tabaré Vázquez, completed the radiotherapy treatment with excellent tolerance to it. He has a very good general condition and in the course of two months medical studies will be carried out to evaluate the response to the treatment. He continues with his activities of government normally."
The statement is signed jointly by Doctor Mauricio Cuello, the treating oncologist, and Doctor Zelarayán.