Argentine president's wife trip to Spain viewed as preparation for future exile
Monday, September 23rd 2019 - 10:56 UTC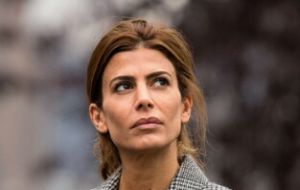 Argentina's political future seems to be no mystery regarding the upcoming October 27 presidential elections. So much so that First Lady Juliana Awada's snap trip Sunday to Madrid citing entertainment and social engagements was announced by the media as a preparation for a post December 10 exile that looks inevitable after the outcome of the August 11 primaries.
Little over a month ago, the Alberto Fernández-Cristina Fernández de Kirchner ticket took about 47 percent of the votes followed by the incumbent President Mauricio Macri and his new running mate Miguel Ángel Pichetto who got around 32 percent.
Awada, who has a daughter from a previous relationship with a Belgian millionaire, in addition to Antonia Macri who will soon be turning eight years old, is scheduled to attend a series of functions and board a flight back to Buenos Aires on Tuesday evening. But she is also believed to be taking a real estate tour.
What fuels gossip about Awada's trip is that she has announced she will be attending a concert in Madrid by Argentine folk singer Soledad Pastorutti, who is also scheduled to perform eight blocks away from the Casa Rosada in Buenos Aires less than a fortnight later. The fact that other artists from both countries such as Lali, Tini, Bebe, Niña Pastori and Marta Sánchez
would take part at the festival was kept low key, to allow for the imagination of the many to ramble.
However, that is pure speculation, since Macri plans to tour "30 cities in 30 days," as a part of the "#Yes, It Can Be Done" (reverse the trend) campaign laid out by Cabinet Chief Marcos Peña, much to the dislike of local leaders affiliated with the still ruling Cambiemos coalition, who are reportedly against being pictured together with a losing face as they seek to win the upcoming municipal elections.
Meanwhile, political analysts have suggested that defeat could be averted if Macri chose to step down and allowed Pichetto to draw the votes of moderate Peronists who chose Fernández in August but would rather not lean that much towards the left. All of which is unthinkable to the Cambiemites who have pledged to stay by their leader despite having acknowledged in private that the 15-percentage-point gap is already unsurmountable, barring a new "Herminio's coffin" that seems to be withholding its appearance.
The expression stems from 1983 with the return to democracy, when the Peronist candidate to the governorship of the Province of Buenos Aires Herminio Iglesias burned a coffin painted in the colours of Raúl Alfonsín's Radical Civic Union (UCR), scaring voters away and costing frontrunner Italo Luder the presidency.
Other rumours depict Macri leaving office at an earlier date, fearing negative consequences should he stay in the country as an ordinary citizen.
Time and the results of the October 27 elections will tell what Awada's trip was really for.