Falklands appoints new Director of Policy and Economic Development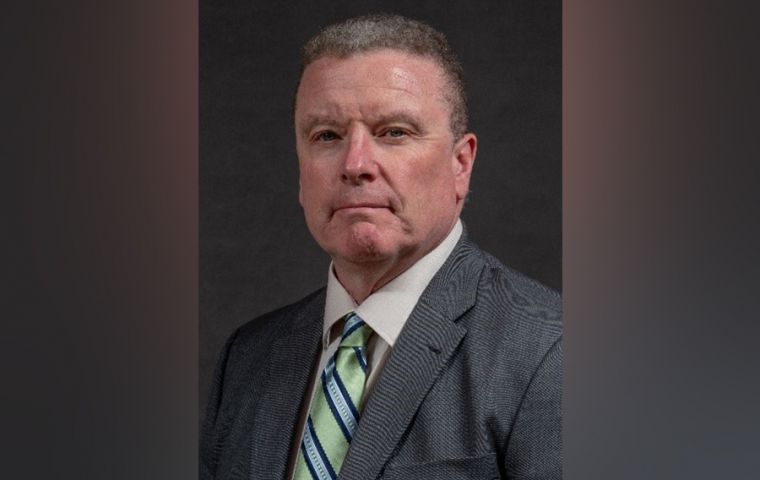 The Falkland Islands Government announced on Tuesday the appointment of Andrew Gaule as the new of Director of Policy and Economic Development. Andrew is due to arrive in the Islands on 2 November 2019 to allow for a seamless handover from the current Director Diane Simsovic.
Andrew was brought up in the UK and graduated from Bristol University with a joint Honors degree in History & Economic and Social History. In his mid-20s he made the decision to relocate to Canada after visiting the north of the country while doing volunteer work with a number of indigenous communities. During his time in the Northwest Territories, Andrew served on a variety of boards including being appointed to the Northwest Territories Power Corporation by the Government of the Northwest Territories.
Having provided economic development consulting, financial and business planning services to both private and public sector clients, Andrew and his family moved to Whitehorse, Yukon to work with the federal government of Canada in a variety of economic development advisory positions before being offered the job of Manager of Economic Development with the federal Canadian Northern Economic Development Agency.
After obtaining an MBA from Athabasca University in 2010, Andrew moved on to accept the position of Director of Regional Economic Development with the Yukon Government in 2013 where he has since gained a variety of senior level experiences in various roles including that of Assistant Deputy Minister and most recently in his role as Director of Business and Industry Development.
On accepting his appointment, Andrew said, "I am absolutely thrilled to be taking on the role of Director of Policy and Economic Development. My partner Charlene and I are looking forward to joining in with all that the community and culture has to offer in the Falkland Islands."
Commenting on Andrew's appointment Barry Rowland, Chief Executive said, "I am pleased that we have been able to secure someone with Andrew's extensive experience and knowledge. I would also like to take this opportunity to thank Diane for all her hard work over the past three years and wish her well for the future."
MLA Roger Spink, Chair of the Legislative Assembly commented, "Andrew comes to the Falklands with a long career in Economic Development, working at a senior level. I look forward to working with him to build on our existing achievements and drive forward our ambitious plans and priorities. I wish Diane the best of luck for the future and would like to thank her on behalf of all of the members for her hard work and dedication."