Argentine officers accused of 'burying' and 'staking' conscripts during the Falklands conflict face trial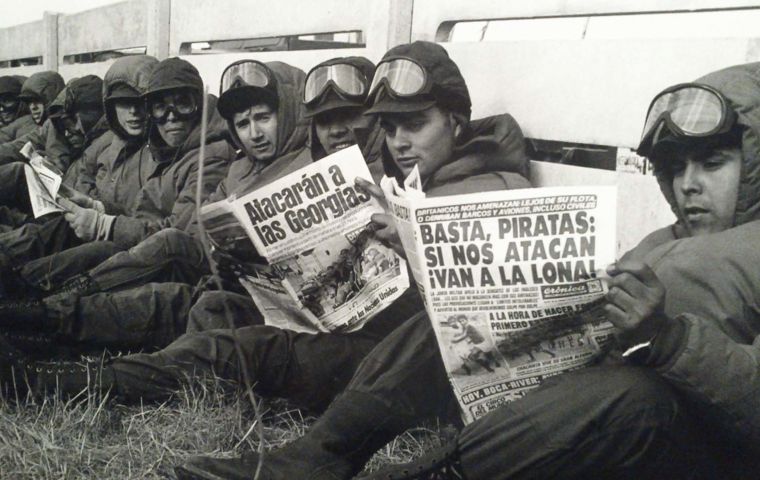 An Argentine federal judge from the city of Rio Grande, Tierra del Fuego will be questioning four officers who allegedly during the 1982 Falklands' conflict ordered the "burial" and "staking" of a group of conscripts for having slaughtered a sheep, since they were desperately hungry and suffering from cold weather conditions.
Judge Mariel Berruto will be addressing the case next 5 and 6 December and the four officers to be questioned are the first of eighteen involved in the same demand. According to the Argentine news agency Telam the four names are Miguel Ángel Garde, Belisario Gustavo Affranchino Rumi, Eduardo Luis Gassino and Gustavo Adolfo Calderini.
Testimonies reveal that former Mayor Garde and former lieutenant Gassino are linked to an incident which happened sometime close to May first 1982, when Argentine troops started to feel the lack of armament, and appropriate clothing and food, which made many soldiers lose weight and quite a few malnutrition.
In this context a group of six conscripts entered the property of a local resident of the Islands and took a sheep which they later slaughtered and consumed.
"During the first days of the conflict we received food, but later this ceased. We didn't even have water and we started feeling hungry, almost starving", reads one of the conscripts testimony and plaintiff.
He added that when the officers heard about the stolen sheep and slaughter that is when they decided on the punishment which was to bury the whole body but the head or stake them to the ground.