Argentina extends exploration licenses to five oil companies in South Atlantic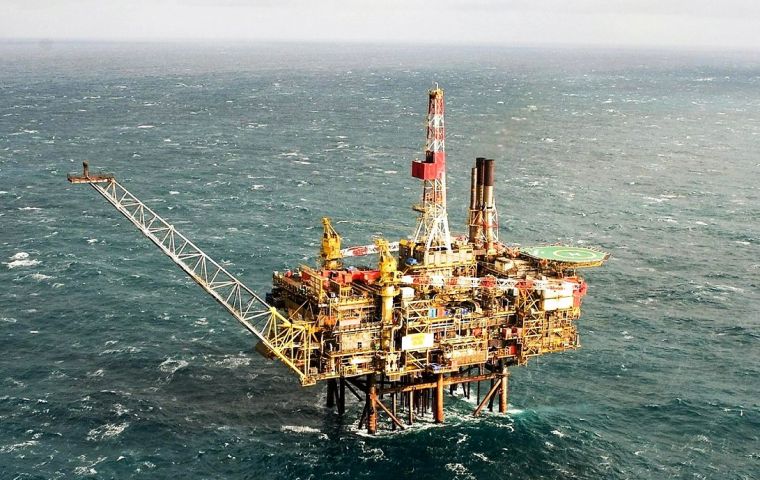 Argentina has awarded five oil companies licenses to explore for hydrocarbons offshore, in the country's continental shelf, in an area identified as the Argentine Sea, or South Atlantic, which basically extends between the continent and the Falkland Islands
Those companies are Total Austral, BP Exploration, Tullow Argentina, Pluspetrol and Wintershall DEA, according to the Energy Secretariat, which depends from the Finance ministry.
The resolution says that "the incorporation of new reserves and the recovery of production, with the purpose of ensuring self sufficiency, is part of the main objective, of satisfying the hydrocarbons needs of Argentina with the production of its own fields"
Exploration in the Argentine continental shelf and the different exploration basins it holds, is essential since many are unexplored and the lack of existing information is a fact, argue the different resolutions. The total area awarded to be explored covers some 27.803, sq kilometers and permits are granted for an eight year period.
Under Resolution 597/2019, Total and BP Exploration were awarded area CAN 111 for oil exploration, which covers some 6.230 sq km.
Resolution 598/2019 awarded Tullow an exploration permit for area MLO 122, an area which extends some 4.420 sq km. Resolution 600 grants Total and BP Exploration the CAN 113 area with 6.573 sq km, and resolution 603, gives Tullow, Pluspetrol and Wintershall, MLA 119, with an area of 4.546 sq km.
Finally, resolution 604, extended to Tullow, Pluspetrol and Wintershall the MLO 114 area with 5.942 sq km.