Brazil's Senate to hold a final vote on pension reform on 22 October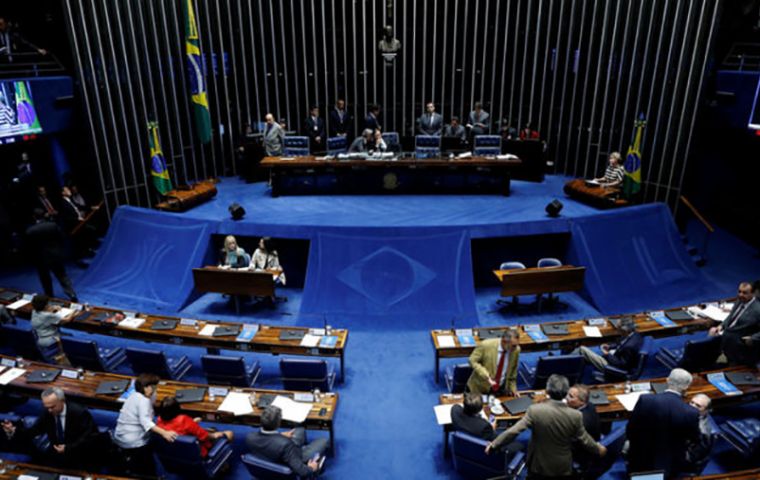 Brazil's Senate will hold the second and final vote on pension reform on Oct. 22, party leaders agreed on Tuesday night after long discussions, according to Senator Antonio Anastasia of the Brazilian Social Democratic Party.
Anastasia said in a Twitter post that party leaders had overcome differences over how surplus oil revenue from the auction of pre-salt concessions will be shared between federal, state and local governments.
The impasse had led senators to delay voting on the fiscally crucial overhaul of Brazil's costly social security system.
The main text of a pension reform bill cleared a key hurdle when the main text passed with a vote of 56 in favor - a comfortable margin above the 49 votes required - with 19 opposed and one abstention. Only 76 of 81 senators were present.
Senators were expected to consider amendments to the bill before the second-round vote, this because it amends the country's constitution and a second vote was required.
The latest round of talks revolved around proposals to govern federal and state government finances, known as the "federative pact," including whether regional demands will be met.
The landmark overhaul of Brazil's costly social security system aims to save the government almost 1 trillion reais (US$ 240 billion) over the next decade via a mix of unpopular measures like raising the minimum retirement age and increasing workers' pension contributions.
It is being closely watched by investors worried about Brazil's budget deficit and national debt. The government, central bank and many economists insist it is needed to boost confidence, investment and ultimately economic growth.