Brazil will reopen its Antarctica base Comandante Ferraz next January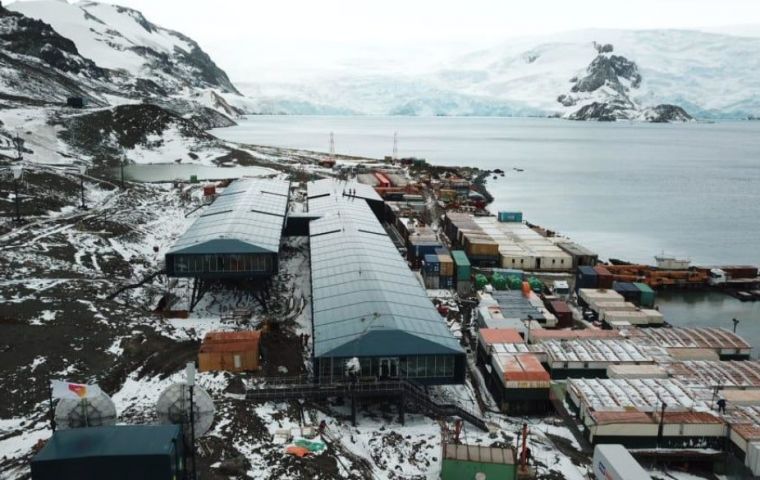 The Brazilian Navy will inaugurate its new 4,500 m² Comandante Ferraz Antarctic Station (EACF) in January 2020, the head of the Navy Programs Management Directorate (DGePM), Vice Admiral Petronio Augusto Siqueira de Aguiar, said earlier this month.
Vice Adm Petronio released the details about the station on 2 October during a presentation on the navy's modernization programs to the Committee on Foreign Relations and National Defense (CREDN) of the Chamber of Deputies.
The modular research facility, located in King George Island in the Keller Peninsula, has been rebuilt according to a contract won by China National Electronics Import and Export Corporation (CEIEC).
The base with the loss of two lives was destroyed by an explosion in February 2012, caused by a fire which raged through the compound where marine research work is carried out.
Apparently the fire started in a machine room housing energy generators before destroying the entire station, which had been built in 1984. Fifty-nine people were stationed at the base on King George Island when the fire broke out
The Comandante Ferraz base was equipped with research laboratories, dormitories, a large-scale kitchen, a library, and technical installation used by expedition boats.
There were fears that the revamped and expanded base, scheduled to have been reopened in 2018, would suffer further delays because of the budget cuts decided by the president Bolsonaro administration on the funds made available by the previous administration of president Michel Temer.
The Brazilian navy and several Brazilian universities are involved in Antarctica research on climate, fungi with medicinal properties and other related activities. Likewise, Brazil as full member of the Antarctic Treaty must attend meetings and have participation in policy decisions.
In related news it was reported that the Brazilian navy plans to end its contribution to the United Nations Interim Force in Lebanon Maritime Task Force (UNIFIL MTF) operation by December 2020.
The navy noted a limited budget and significant logistics effort - as well as the importance of prioritizing its maritime presence in the Antarctic and the South Atlantic Ocean area, including the African coast - as the principal reasons to end its contribution to the Middle Eastern operation.