Falklands' sovereignty claim, a priority for opposition presidential frontrunner
Monday, October 14th 2019 - 17:57 UTC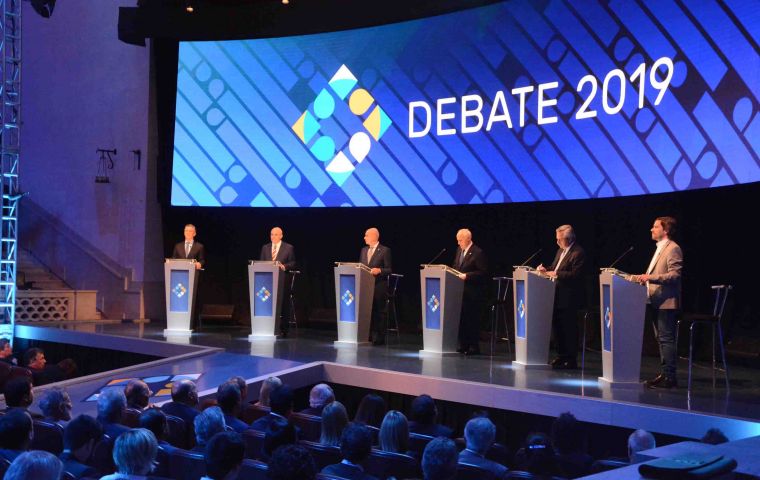 The Falklands/Malvinas were not absent from the Argentine presidential candidates' debate on Sunday evening in Santa Fe province. President Mauricio Macri running for reelection was criticized by opposition front runner Alberto Fernandez for "forgetting to claim the Islands' sovereignty".
Although the issues expected to crop up with greater intensity in the debate's chapter on foreign relations were Venezuela, which has divided the Latin American continent, and Ecuador in the midst of a major popular uprising to protest austerity measures demanded by the IMF, Falklands are more emotional in Argentina and an easier consensus is achievable.
In effect Fernandez attacked Macri and his administration on the priority of its agenda with the UK, that is giving trade prevalence over demanding a resumption of dialogue on the Malvinas sovereignty.
"All these years the Macri government was very much occupied in trade with the UK and with Malvinas and forgot about sovereignty. To the memory of our soldiers I'm going to make sure that things are different" underlined Fernandez.
"I demand that again we reinforce our commitment with the Malvinas Islands sovereignty", he added.
Another of the presidential candidates, but with a very minor support, also referred to the Islands. "Malvinas is a national cause, but our defense model has been disarticulated. We are going to design a defense system in accordance with our country", pledged Gomez Centurion. "We shall sustain the constitutional mandate to fight to integrate the Malvinas Islands to our territory because it is a national cause"
"Undoubtedly the Malvinas belong to us, to Argentina. Nobody can discuss that", said Jose Luis Espert, an economist and presidential hopeful running for the first time. But, "the United Kingdom usurped the Islands 180 years ago, and unfortunately despite the enormous valor of our combatants forty years ago, we lost a war. The realistic way to recover them is to make the necessary deep changes that will enable us to have the same income level as the UK, so that from that platform even for the Islanders, there would be no excuses in our claim over Malvinas Islands sovereignty"
Finally the Federal Consensus presidential candidate, former economy minister Roberto Lavagna said that the Malvinas issue is "unrenounceable" and is a priority in the political agenda of his grouping, although "we must reach our objective through peace". But after giving his blessing to the Falklands' issue Lavagna said Argentines should concentrate in trade, peace missions, energy and environment, as well criticizing Mercosur.
"It's a strategic project which has been stalled for too long", said Lavagna in reference to Mercosur. However the former minister was also cautious about the recent deal signed between Mercosur and the EU. "It can be an opportunity but again it could leave us in a weak position, it's not quite clear where it is leading us to".