Argentina's opposition confirms and displays a unified front in a massive rally
Friday, October 18th 2019 - 10:56 UTC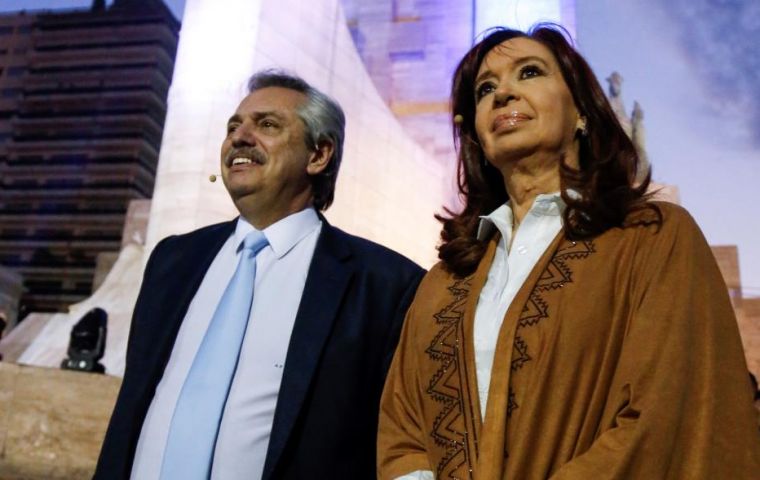 With less than ten days for the Argentine presidential election, the catch-all Peronist movement that has dominated the country's political scene for decades managed a family picture with all groupings united in support of the presidential ticket headed by Alberto Fernandez and ex-president Cristina Fernandez de Kirchner.
The significant political event which convened governors, union leaders, lawmakers and party chiefs took place in La Pampa and in a very special occasion, 17 October, or Loyalty Day, as it is recalled by Peronists. On this date but in 1945 a young Colonel, Juan Domingo Peron, was let out of jail as thousands took to the streets in support of who would become three times elected president and the most outstanding leader of Argentine politics in the last century.
This time the rally was in support of the Fernandez/Fernandez ticket, favorite to win the election the last Sunday of this month, but even more important it meant that all the infighting in the catch all movement was resting in peace with the sole purpose of taking office and again controlling the government and congress of Argentina.
In his speech Alberto Fernandez attacked president Mauricio Macri calling him repeatedly a liar for having dared suggest that his administration was deeply in debt, because he needed the funds to pay for pending arrears of the previous (Peronist) government.
"We are offering the people an option, we want Argentina to stop falling, which is what happens every time the neo-liberals such as Macri reach office"
"They tell us that Argentina suffers of a cyclical problem and every ten years it stumbles and falls over the same stone. But in reality they are the stones, they are the ones that once in office destroy everything achieved by the Peronists"
"I promise you that with us in office we are going to build an inclusive Argentina, an Argentina where we all fit, not for a few but for a country where people have jobs, can develop grow their families and be happy".
Fernandez went further and blasted Macri and his friends for their private dealings, "dealings for a few ignoring the people, their rights and not ashamed of paying outrageous interests to banks for the debt".
Cristina Fernandez underlined the significance of the unity achieved, but "which should not make us believe all has been won". "We must be well aware that the task ahead is enormous because this outgoing government's only achievement has been to make us all poorer, to make the Argentine people poor and hungry".
Calling for "Never again" neo-liberalism, the former president described the Macri administration as the third neo-liberal experiment in Argentina: the first, the military dictatorship, 1976/1983, and the two administrations of president Carlos Menem
Cristina Fernandez appeared on stage with a hand knitted poncho, a gift of one of the militants that was handed to her by the host governor of La Pampa, Carlos Verna, who recalled openly how in the past he had quarreled with the lady president.
"How come we now have a neo liberal country with a government of the few?", asked Verna and continued demanding unity, "this is our responsibility, we have to fight less among ourselves and be closer, more united"
"With Cristina and Alberto the project has consolidated, so has the model and prospects of a much better future. On October 27 we are going to repeat the PASO primaries and take Peronism to the place it merits, and from where it never should have descended", said Verna to the thousands of militants at the rally.
A year ago, 17 October 2018, the Peronist groups divided and squabbling were involved in at least three different Loyalty Day celebrations.
This time however Alberto Fernandez proudly remembered that before this Thursday's massive meeting and open unity commitment, "three or four" different celebrations had taken place, in Tucuman, Corrientes and Buenos Aires province.