Argentina: calls for a rational transition starting O-28 and the pancake syndrome
Saturday, October 26th 2019 - 09:50 UTC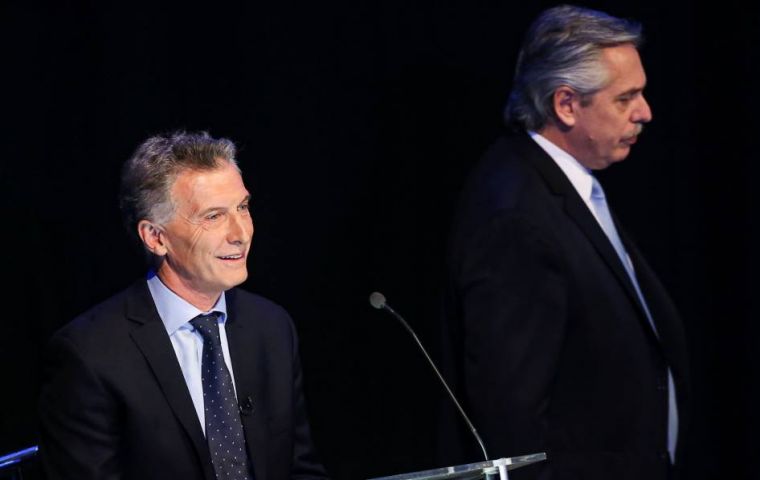 On Sunday 33.8 million Argentines will vote for a president, for the renewal of the 130 members of the Lower House and a third of the Senate, 24 out of 72. But results should come as no surprise since a majority of the Argentine electorate has zapped to an old déjà vu show, fed up with president Mauricio Macri and his pro-business policies.
In effect all opinion polls, even with their shortcomings, are unanimous in that Alberto Fernandez, a former cabinet chief of Cristina Kirchner should confirm the ample, surprisingly landslide victory he managed at the August 11 primary, thus becoming the next Argentine president, with Cristina as his vice-president.
However, besides the democratic side of the show, with or without a runoff, what really matters is what is going to happen on Monday, the day after O28, in the markets, and who is going to effectively run Argentina until 10 December, --when a new government is to take office and announce its policies--, given the discredit of the current administration and the aggressive howling of the accommodative media, in an attitude which Argentine folklore, graciously calls the "pancake syndrome", and which also seems to have extended to some of the courts.
On Friday the last week of trading before Sunday's ballot the US dollar climbed to 65 Argentine Pesos, ending the week with a 7% surge. In the wholesale market the US dollar reached 60 Pesos, with overall trading of US$ 1.15bn, as companies abandoned Peso assets. The Argentine central bank came to the rescue with a supply of some US$ 800 million which it offered in four different moments of afternoon trading.
Money traders said whatever Sunday result, markets are under a deep bout of "pre electoral jitters", and do not discard that next Monday a bank and money exchange holiday could be declared to stop the run on the Central bank's reserves, down some 22 billion dollars since the fatidic 11 August, when the Macri administration and dreams of reelection were buried.
Likewise in the circumvent access to US dollars, avoiding the US$ 10.000 per person or entity per month limit, which is materialized by purchasing shares or bonds, or debentures, and then selling them to obtain dollars, the greenback value increased to between 75 and 81 Pesos.
Furthermore according to market sources, the Central bank reserves dropped US$ 1.755bn on Friday, of which "about half was an advance of physical dollars (bills) to the different banks, in case there is a run, and ensuring branches had sufficient cash available".
And to this highly volatile and unstable situation must be added the bad chemistry between president Macri and candidate Fernandez. Apparently there was a strong exchange of accusations in the backstage of last Sunday's presidential debate and when it was all over, and candidates were asked to stand for a photo and shake hands, all did so, some politely some correctly, but Macri and Fernandez completely ignored each other.
To such an extent was this so evident that Roberto Lavagna, one of presidential candidates, former Finance minister, and recognized economist by the political system, called for a rational transition and asked Macri and Fernandez to lower the tension and confrontation, because this generates "uncertainty" among the people, in the economy, and is terrible for the current administration.
"There is uncertainty and a degree of tension and confrontation between the two main contenders and people naturally think we are heading to another transition as happened in 2015, highly conflictive, and with much less international hard currency reserves"
Lavagna regretted that Macri and Fernandez did not try to avoid this uncertainty message in an attempt to reach as calmly as possible to 10 December. He added people were left with the idea that what happened on the Monday following the PASO primary (August 11), when there was a run on the dollar could repeat itself.
"These things really count and complicate the economic scenario", insisted Lavagna pointing out that if the option is to continue playing the conflict game or are they going to lower decibels and tame down, since none of the two will have a clear absolute majority in Congress"
At the end of Friday trading the Argentine central bank reserves stood at US$ 45.5 billion, the lowest since January 2017, while the hemorrhage triggered by the August PASO primaries totaled, US$ 22.8bn