Londoners can visit Argentina's training vessel ARA Libertad this week end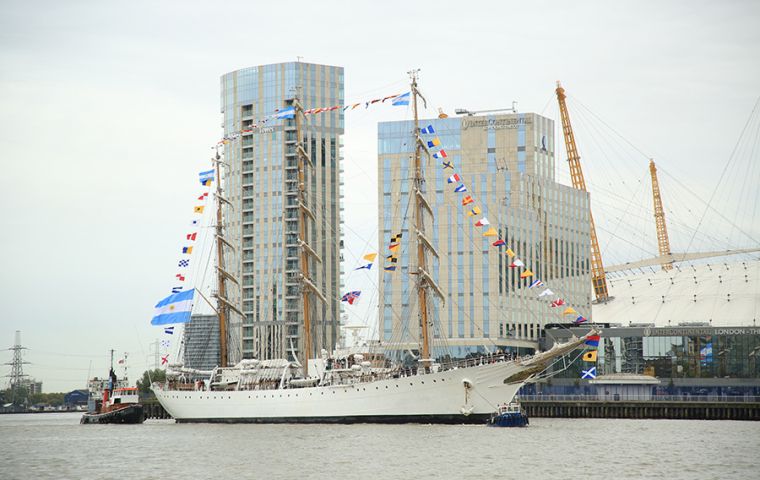 Argentina's Navy training tall vessel ARA Libertad on her 48th voyage docked on Thursday in London, where she was received by the Argentine Ambassador to the United Kingdom, Carlos Sersale, representatives of the Royal Navy and members of the Argentine community in UK.
"This is the third time in my four years as Ambassador that the Frigate has come to the United Kingdom. And this time it's no less than London itself, which is an honor. The history and trajectory of this city cannot be explained without its ports. This is why, seeing the Frigate – in all her majesty – sailing up the Thames today, after almost two whole decades, was a truly moving experience and a real pride. London is, of course, also home to the International Maritime Organization, of which we have been a member since 1953. This is significant because November will see the election to which Argentina presented its candidacy for category "B" of the IMO's council for the 2020-2021 period", the Argentine Ambassador said.
After 17 years without docking in the British capital, the public will be able to visit the ARA Libertad at Canary Wharf's South Quay and discover the historic vessel, which will be exhibiting artistic, commercial, sporting, scientific and cultural items of interest from Argentina this Saturday and tomorrow Sunday 27 October, between 11am and 4pm.
The ship's principal mission is to complete the professional training of 48 midshipmen, thus helping to boost their maritime and nautical expertise, as well as cultivating ties between the navies of the countries visited en route. This year, under the leadership of Commander Juan Carlos Romay, the Frigate has 50 women aboard, from a crew of almost 300 individuals.
London is the seventh port on the 2019 itinerary for this 'Ambassador of the seas'. On completion of its voyage in five months, she will have visited 15 ports in 10 countries.
The most recent visits made by the Frigate A.R.A. Libertad to the UK include Southampton (2017) and Liverpool (2016). The last visit to be made to London took place in 2002.Her following call is Dublin.